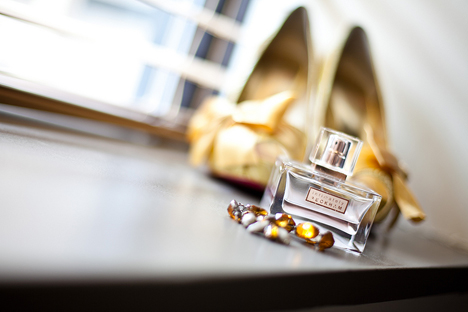 Describe the proposal.
Jared had planned a romantic picnic in the Shenandoah Valley, which he said would be our first picnic of spring. Unfortunately, the day turned out to be a little grey and chilly, so I insisted that we would have more fun staying indoors.
Jared didn't want to give anything away by insisting, so he agreed to spread out our picnic blanket on my living room floor, where he caught me completely by surprise with the most beautiful ring I had ever seen. That evening, Jared showered me with four-dozen roses and a Washington D.C. dinner cruise on the Potomac River.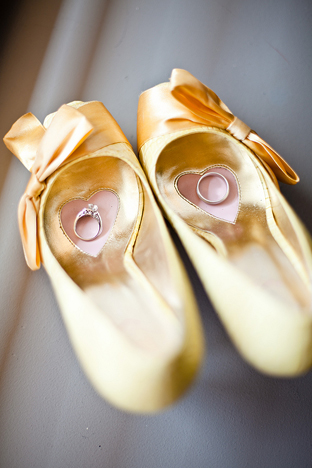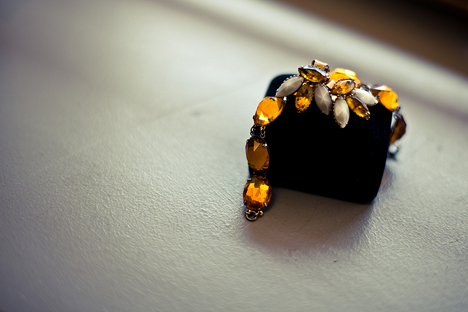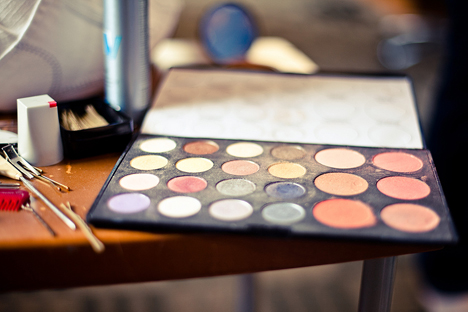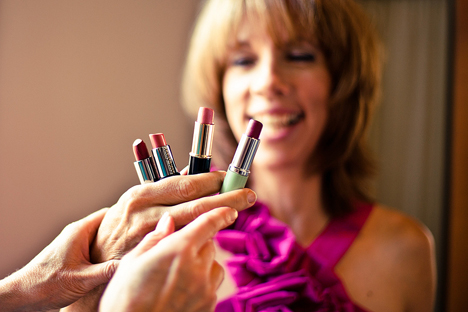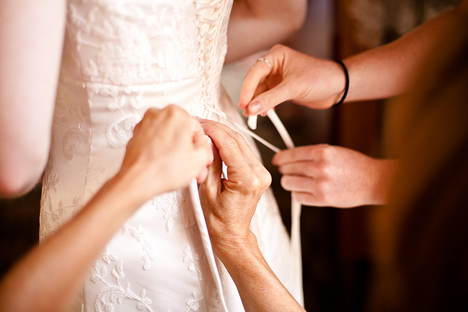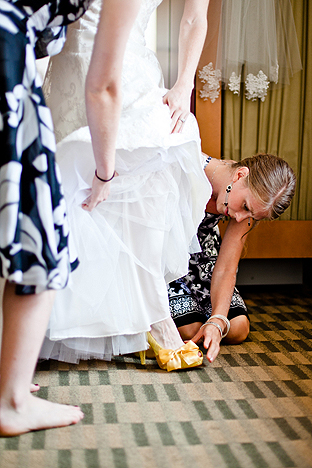 I loved the idea of striking elegance of black and white damask designs contrasted with lighter, softer yellow and white flowers.
I wanted the wedding to be elegant with a bit of flare, especially since we decided to do an outdoor reception, so I went with a delicate black damask design and script font with a bright yellow ribbon.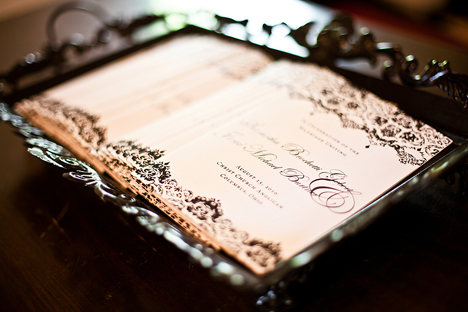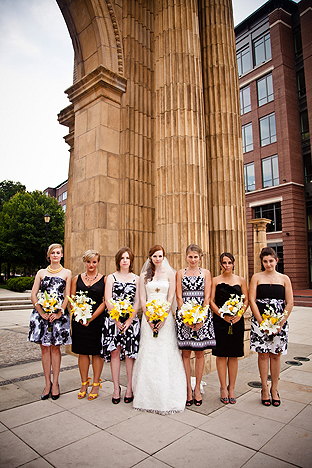 I wanted soft, whimsical yellow and white flowers to contrast with the more formal black and white damask designs.
I used white orchids, white and yellow roses, baby yellow roses, mini calla lilies, and white and yellow lilies in the arrangements and bouquets.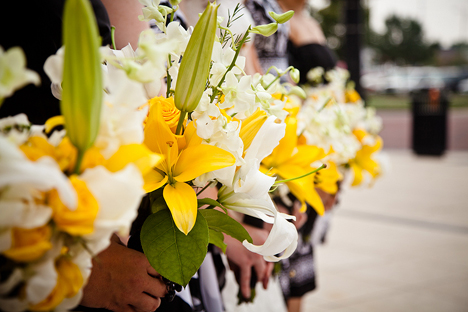 Being a picky shopper, I never thought I'd find "the" dress. It had to be a certain kind of lace, no beading, and straps if possible. I wanted it to be light and elegant, but somehow finding just the right lace was more complicated than I thought. Lace is not just lace, as I discovered.
In the end, I was thrilled to find a dress with a damask lace pattern, a heavier design embroidered on a shear overlay and scalloped train. My mother found a wonderful dressmaker in my hometown who added scalloped lace to the top and helped me to find the perfect vintage brooch for the front.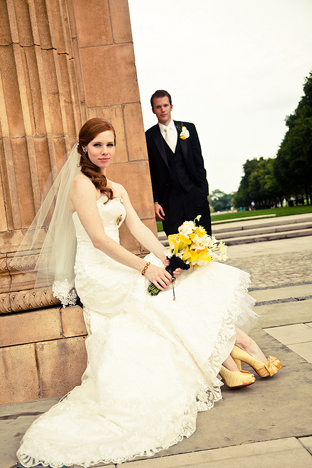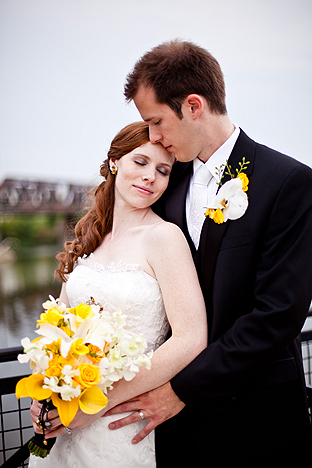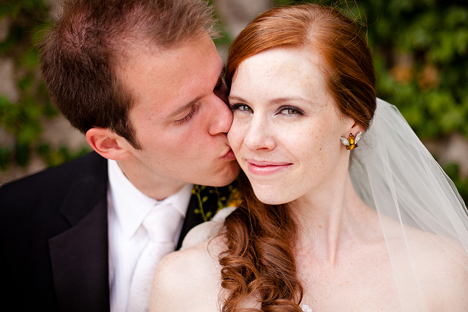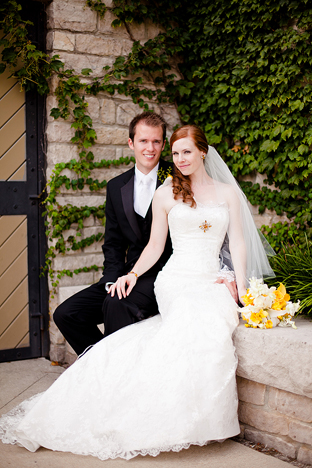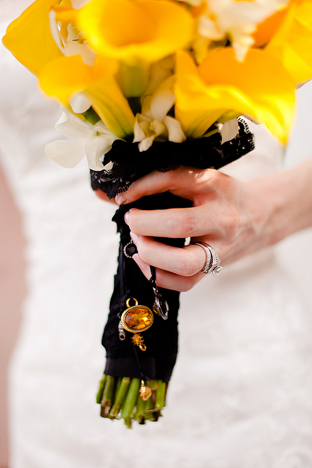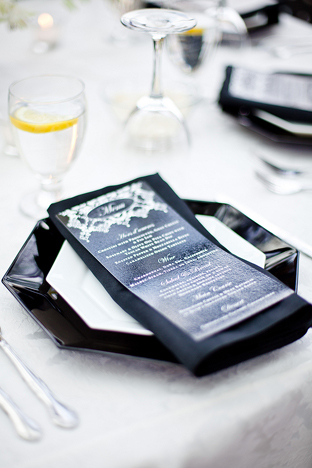 For the table centerpieces I used heavier urn shaped black vases to create contrast and my bouquets were wrapped with black lace.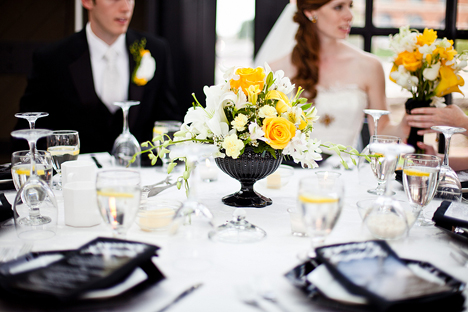 There were two details of the wedding that I especially love looking back on. The first was the homemade vanilla extract we gave out as favors – not only were they useful and delicious, but I really enjoyed the process of designing the labels and loved how they turned out!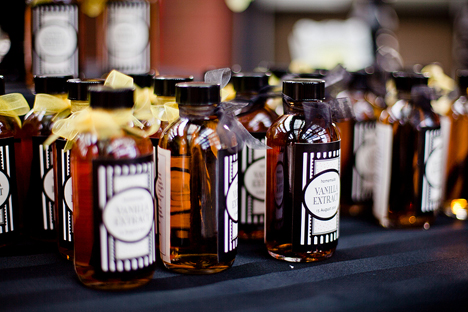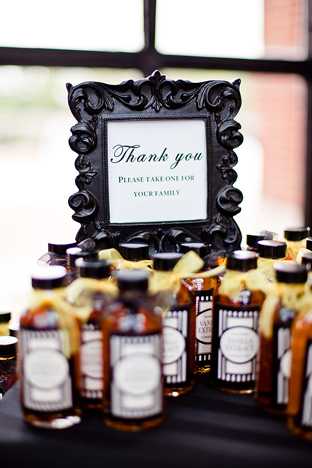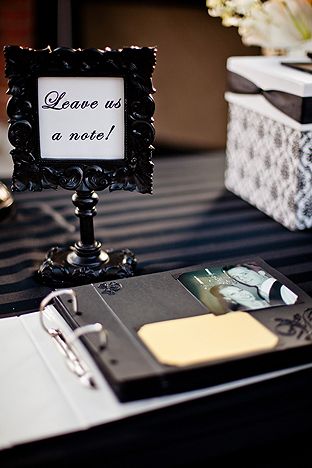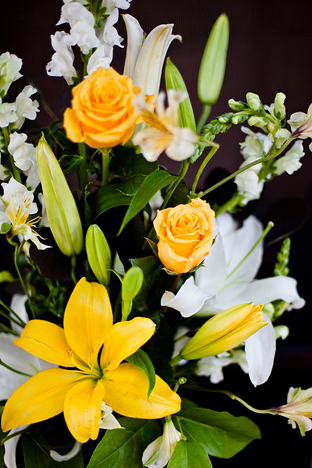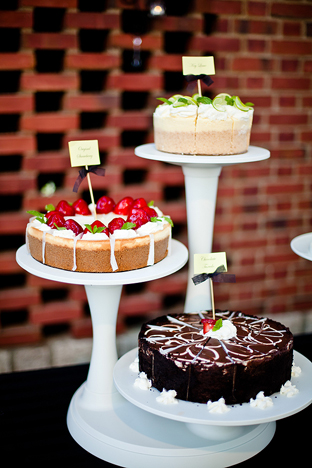 Having always disliked wedding cakes, I decided that a mouthwatering display of Cheesecake Factory cheesecakes would be the perfect substitute.
With the help of my eleven year old brother, I chose a variety of fruit and chocolate cheesecakes from the Cheesecake Factory and nothing could have been more simple, or delicious.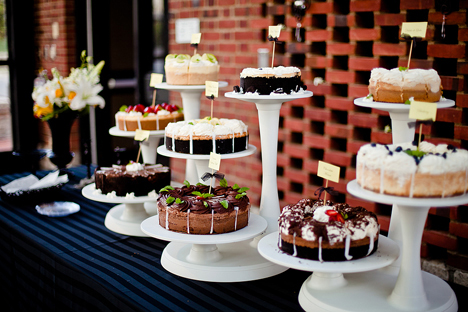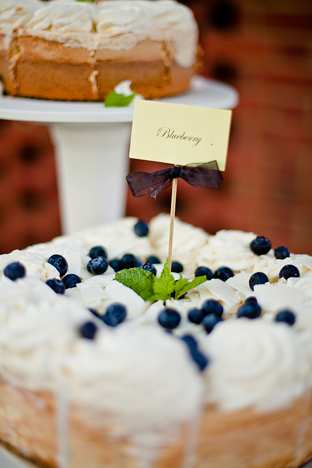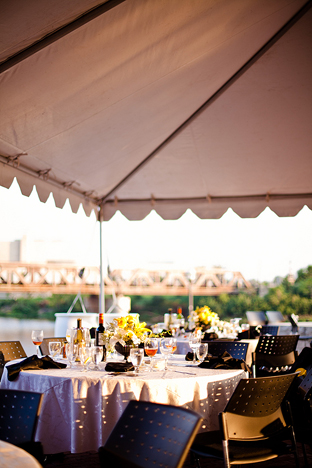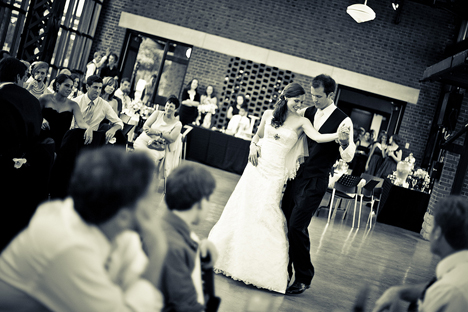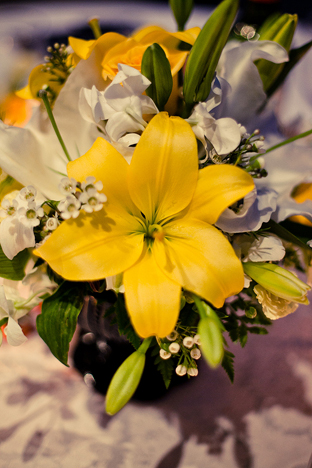 The other detail I loved about the wedding was the beautiful white lanterns I had on each step leading up from the waterfront to the reception pavilion.
At the end of the evening, the guests used the lanterns to light our way to the get-away car, and to illuminate the enthusiastic rice-throwing.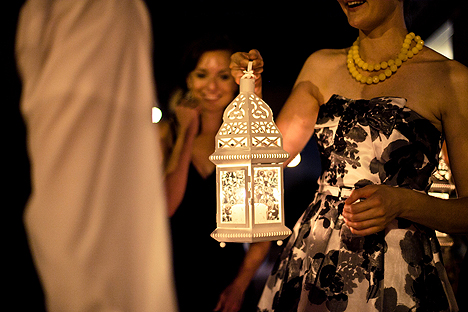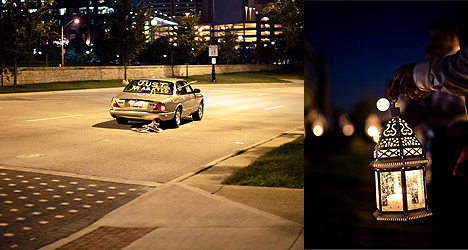 Photography: Marvelous Things Photography
Church: Christ Anglican Church
Reception Venue: North Bank Pavilion
Hotel: The Lofts Hotel
Flowers: Julie Minico, aunt of the bride & florist, Wholesaler: Dreisbach Wholesale Florists, Centerpiece Vases: DirectFloral
Invitations, Programs, & Menus: Designed by bride
Bridesmaid Dresses: White House Black Market
Wedding Gown: I Do, I Do Wedding Gowns, Customization, alterations, and veil: European Bridal and Formal
Bridal Jewelry: Westerville Antiques and Collectibles
Shoes: Paris Hilton Shoes
Cakes: The Cheesecake Factory
Wine: Esprit du Vine
Rentals: Lasting Impressions Event Rentals