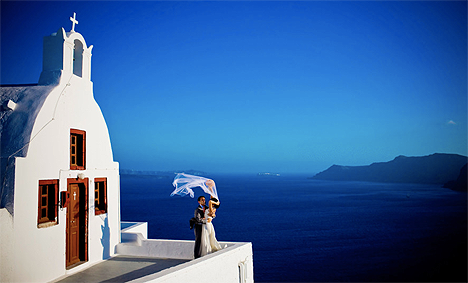 Dreams of your perfect wedding day have probably developed into more elaborate plans, albeit more practical, as you have gotten older. Thinking about how you would like to get married involves a complicated mess of logistics and considerations that can seem overwhelming if you are not prepared, blinding you to potential exciting options for your wedding. Destination weddings could be a tantalizing option for you and your partner if you would like to avoid some of the common difficulties of local-based weddings while creating irreplaceable memories for you and your loved ones. What are the pros and cons of having a destination wedding?
Pros:
Cost: The average cost of an American wedding is $25,000, though most couples tend to either spend about $19,000 or $32,000. With the cost of weddings being so high, organizing a destination wedding could actually save you money. Many people choose to have destination weddings in locations that are much cheaper than any area of the US, allowing you to throw your dream wedding at a fraction of the cost of a domestic location. In fact, destination weddings cost an average of 40% less than local weddings. If you have a destination wedding in mind, you could splurge on the nicer engagement rings or longer honeymoon. Why not save money while exploring new territory at your destination wedding?
Options: Destination weddings today are being thrown all over the world. You can choose to reserve entire resorts or hotels for you and your guests in exotic locations like Bali, the Dominican Republic, or Italy. Even more, often these venues will offer all-inclusive options that make your planning easy and can save you a significant chunk of money. By choosing a beautiful and exciting location to have your wedding, you are making priceless memories with your loved ones while forging a new relationship with your chosen destination and its culture. Have you always wanted to get married on the beach? Do it in the Caribbean. Have you dreamt of having your wedding pictures with the backdrop of the Himalayan Mountains? Get married in India. Take advantage of your opportunities!
Intimacy: Because most destination weddings will require you to help organize the travel and lodging of your guests and ask your guests to take more time off work to attend, guest lists for destination weddings tend to be shorter than those of domestic weddings. This can be a huge benefit to you and your partner because it allows you to have an intimate wedding with your closest friends and family without having to worry about the politics of having to invite those more distant relatives and acquaintances who would not want to invest as much time and money into attending. At a destination wedding, only those who really want to attend will make the effort, costing you less money and making your wedding as meaningful as possible.
Cons:
Exclusivity: Although having a destination wedding will ensure that your special day is both intimate and meaningful, it might also prevent some guests who cannot afford to make the trip from coming. In this case, you can offer to pay for some of your guests but you have to be careful not to insult anyone with the offer or by offering it to some guests over others. If most of your guests are working on a very limited budget, a destination wedding might not be feasible for the majority of your guests.
Complicated logistics: Even if you find a location at an all-inclusive resort or through a comprehensive travel agent, a great deal or organization and planning of details is still necessary. It could be significantly more difficult to plan your wedding abroad from the US due to lack of knowledge of the culture and practices of the destination location, language barriers, and the added complication of organizing international flights for multiple people. Think about these issues before choosing a destination wedding to avoid unfortunate surprises.
Legal Issues: Couples should acquire their marriage licenses in the US before having the ceremony abroad. In any event, the official ceremony will have to be officiated by an authority whose power will be respected in the US. Depending on your location, this may or may not be a problem. Make sure to look into these details before making any final decisions.
Having a destination wedding can set the stage for an exciting and memorable partnership between you and your spouse. You can make irreplaceable memories while saving money and creating an intimate gathering for your closest friends and family. Before taking the dive, however, think about whether your guests can feasibly attend and if the logistics of planning the event can successfully be covered from the US, including legal concerns.
This is a post by Anita, writer and blogger, working for brands like Higher Click or Macy's. She is a fashion enthusiast, a photography and cat lover.
Photo courtesy of www.chrismanstudios.com.