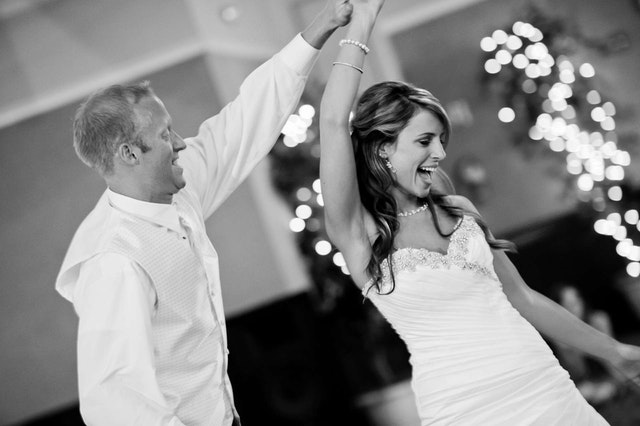 Ah, the first dance. It's a tradition; the moment when a couple take to the floor as man and wife, their friends and family looking on, and share a special moment together. It's a beautiful, calm moment in the midst of the post-wedding celebrations.
Of course, the only way this moment can be so precious is if you make the right decision on the song. While choosing the song for your first dance is unlikely to be the most important decision you make while planning a wedding, it's still something you really want to consider at length.
Maybe you already know what your first dance song will be; maybe you and your fiance have "your song" that is an automatic choice. Or perhaps you're still struggling to find a single tune that can sum up your entire relationship. Either way, there are a few important questions to ask yourself before you finalise the choice with the wedding DJs:
Are You Sure It's A Romantic Song?
The above might sound like a ridiculous question, but you'd be surprised at some of the songs that couples have chosen as first dance songs over the years.
"I'll Be Watching You" by The Police is a very common first dance song, which is odd, given that

it's a song about

stalking

.

Kelly Clarkson was probably surprised to discover her song about a difficult parental relationship, "

Because Of You",

was being featured as a first dance song.

Phil Collins' "One More Night" is another popular first dance song, which is a shame given it's a song about a couple in the midst of a breakup.
Just because a song is slow and gentle to listen to doesn't mean that it's a romantic song. Don't be fooled by the titles either; "Because Of You" sounds like a beautiful song about how wonderful someone is, but it's anything but.
So before you finalize your song choice, have a read through the lyrics of the song and ensure you've got the meaning entirely correct!
Can You Dance To It?
Sure, if you and your new husband don't dance with the grace of Fred and Ginger, it's not going to be a huge disaster that will sink your entire wedding. However, you're going to look back on this moment for years to come. It makes sense to choose a song with a sweet, lilting rhythm that you can at least sway along to.
Are You Still Going To Like This Song In 10, 15, 20+ Years?
Picking very recent songs runs the risk of failing this test. Try to select a song that's at least five years old, so you already know you're able to continue to enjoy it long after its release.
So while choosing the song for your first dance might not be the most important decision you make, it's still a crucial moment that you're going to want to get right. If you can get your choice through the questions above, then it sounds like you've got the right music, for the right moment, with the right guy.