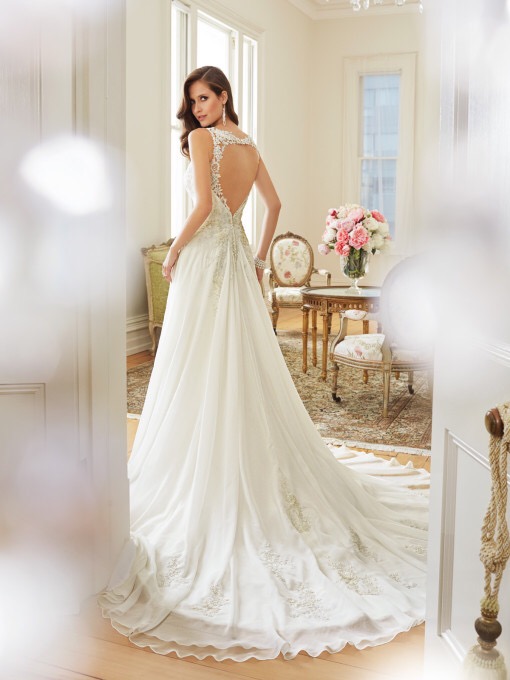 Wedding is the best day of every girl's life and this is the special moment when you would like to look your best. Keeping this requirement of the brides in mind, the designers in Singapore have come up with a huge variety of wedding dresses to give the girls their desired look for the day. So, if your wedding is knocking at the door or it's your BFF's wedding you can shop for the most beautiful wedding dresses from Singapore. But with so many varieties of wedding dresses it is quite normal to get confused, but in order to help you to make the best decision here are 5 types of wedding dresses that can make you look stunningly gorgeous.
Pretty Lace wedding dressDo you like peek-a-boo? Then why not to do it with your beautiful wedding dress?
What's special?
The lace dresses are the perfect wedding attires for brides who want to show a little skin without revealing too much. The beautiful lacy wedding dresses from Zalora Singapore give a slight impression of the skin making the bride all more sensuous and attractive. You can either go for the strapless dresses or the long sleeve backless dresses as these are the most trending designs in Singapore now. The lace dresses when paired up with other jewelries and accessories make a bride look like a princess straight from the fairy tales.
Be it a white lace dress or some other color, the lacy dress can make every head turn when you walk through the aisle.
Floor-length A-Line wedding dress
A floor-length A-Line wedding dress is something that every bride should get for their wedding day as there can't be nothing classier than this.
What's special?
These gowns also known as princess wedding dress have floor-reaching heights which add extra length to the stature of the brides and make them look royal and grand. The lovely bustline, clinched waist and the layered design along with the inverted triangle shape accentuate the curves and make the brides look like models.
When you will drape yourself into this beautiful wedding gown and step into the venue assisted by your bridesmaids, it will be you who would steal all the limelight and become the celeb of the night.
Columnar or Sheath wedding dress
For brides who don't want a flaired up fairy like look, a column wedding dress is the must to opt design for them.
What's special?
These stylish wedding dresses specially designed for the new-age brides in Singapore runs down from the shoulders vertically towards the floor. Boasting of a plenty of designs these body-hugging wedding dresses when worn flaunt the lovely curves of the brides and make them look even more beautiful and trendy. Such wedding dresses are most suited for confident brides having great bodily features.
So, if you are sure about your body shape and want to flaunt it then this is right one for you.
Mesh full-length wedding gowns
If you want to look elegant yet attractive on your wedding night than there is no better alternative than the mesh wedding gowns.
What's special?
Singaporean brides are in love with these mesh-made wedding dresses due to the sophistication and glamour that these dresses add to their persona. Available in a variety of designs like backless, full-sleeve etc. and multiple colors the mesh wedding gowns are just perfect to give you an eye-catchy and bold look. A white mesh gown accessorized with right jewelries and heels can make you look drop-dead gorgeous in the eyes of the guests as well as your groom.
So, these are the 4 wedding gown designs trending in Singapore. These dresses are not just beautiful but are stylish and elegant. And the best thing is you can shop for these dresses using coupons from CouponDekho.sg in a much lesser price than their original cost. Get the most suited one for yourself now without making any delay and make your groom goo weak on his knees just the moment when he sees you.
Photo courtesy of Mon Cheri Bridals.