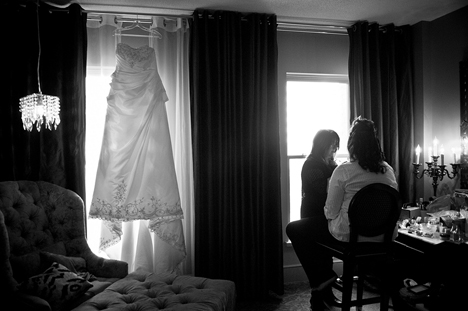 Describe the proposal.
It was very unexpected and kind of funny. Pat invited me along for a road trip to Lake Oneida in upstate New York. I love to travel and see new places so I was ready for the trip!
On the drive up, we started having a pretty serious conversation about what the next step was in our relationship. I told him that I was ready to be married. He said with a chuckle."Well, will you marry me?" I was trying to be serious and so I snapped back."I'm serious Pat! I'm talking a real proposal with a ring and all!!!"
As he drove down the interstate he reached behind his seat and started feeling around. I turned and faced the window when Pat said…"WELL..will you marry me???" When I turned around he was holding a little black velvet box in my face.
I was completely shocked and couldn't even speak! It was totally unexpected. He pulled over and opened the box with the most perfect diamond engagement ring and asked me to spend the rest of my life with him!!
It actually turned out to be a surprise for both of us in the sense that he was going to ask me on the trip..but didn't know when..and he felt that the conversation we were having led to the opportune time!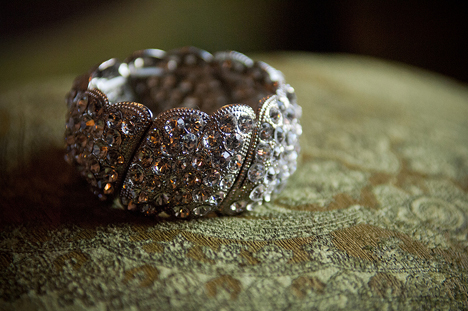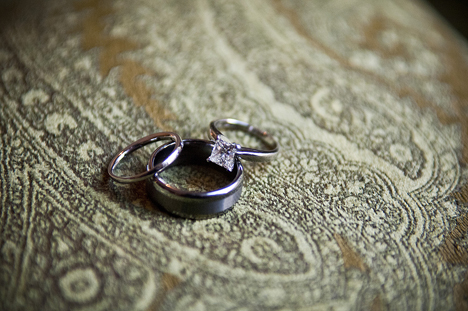 For something old, I used the pearl strands from my mother-in-laws wedding bouquet to accent in mine.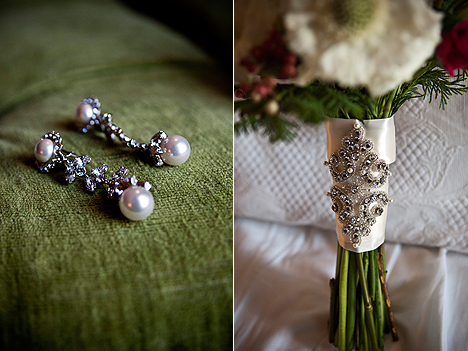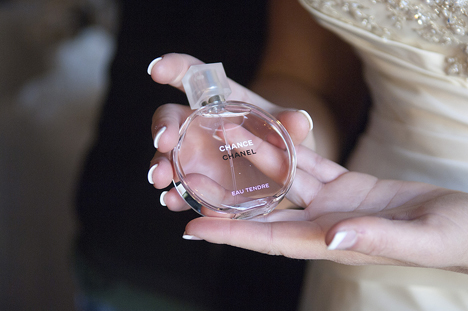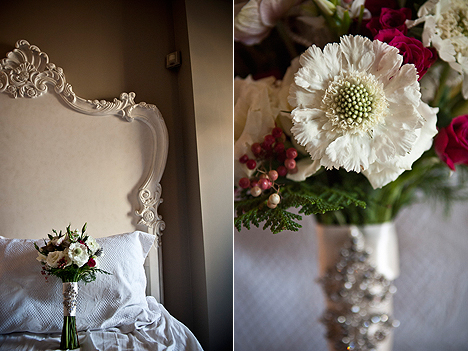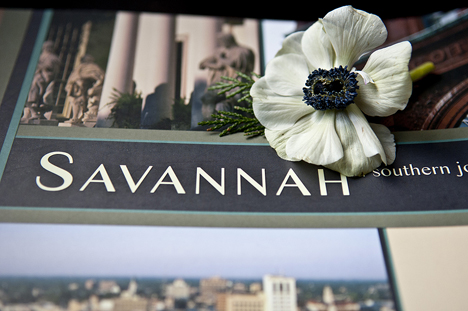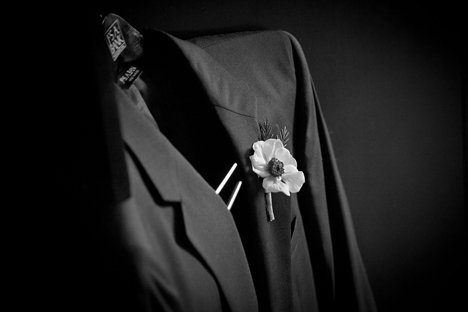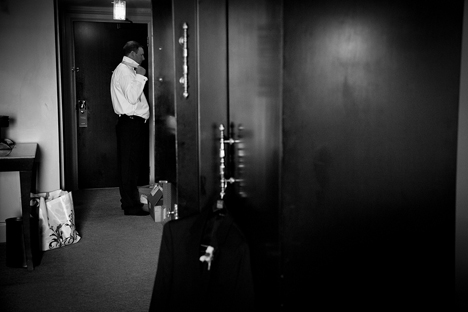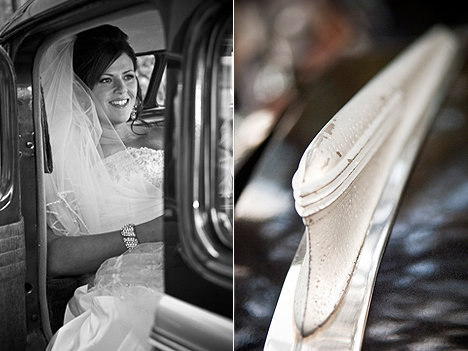 My pew markers were simple but beautiful! Ivory Hydrangeas tied with an Ivory Ribbon.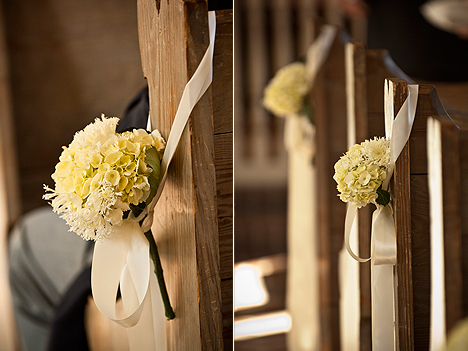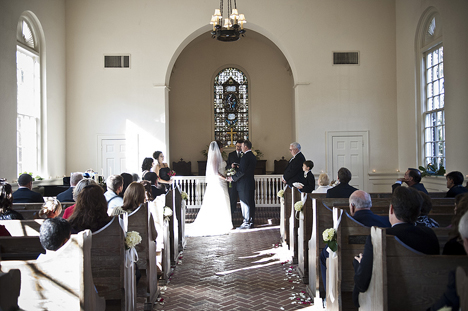 Being a 6 ft tall bride, I was a bit worried about finding a dress that I would like. But I knew in my head what I was looking for.
When I saw my gown in the mirror I knew it was thedress I wanted! It was romantic, elegant, and timeless with a bit of a vintage feel.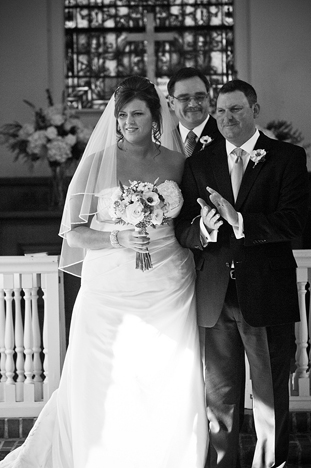 Our flowers were beautiful, southern, elegant, and romantic. The flowers were so important to me and I spent a lot of time deciding exactly what I wanted.
I love black and white anemones, the dark pink berries, and the vintage touch of black and white feathers!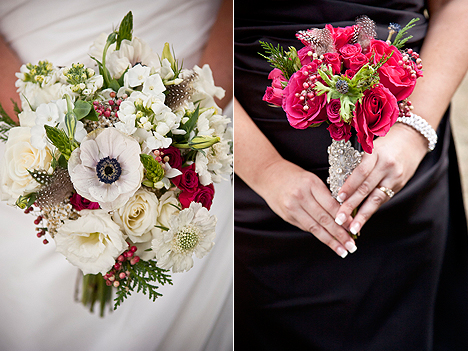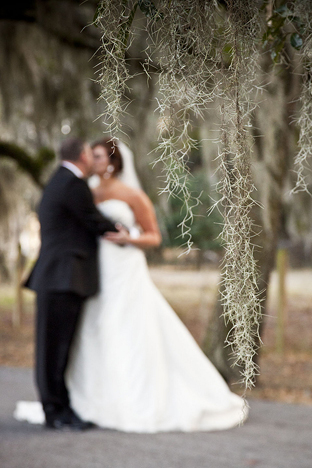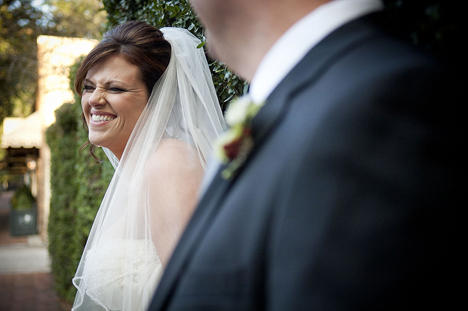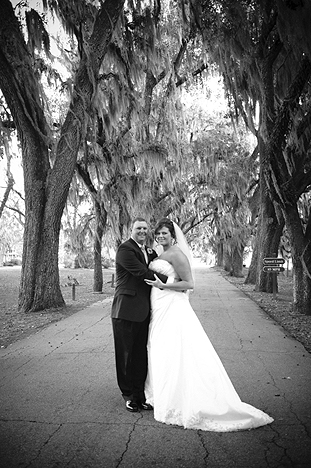 Our wedding cake was beautiful and delicious! Three tiers of chocolate marble cake and pound cake with white chocolate and buttercream icing.
It was decorated with ivory buttercream with a piped lace design and a pretty ribbon made of fondant. I found a pretty vintage looking broach that looked like a snowflake to use on the center of the ribbon.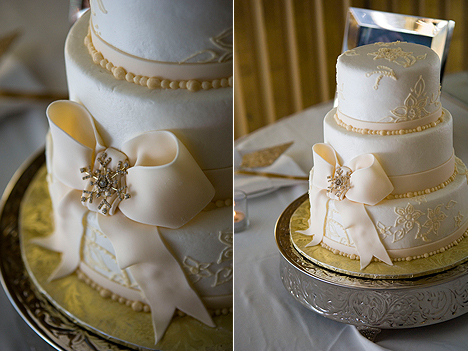 Photography: Diana Daley Photographers
Ceremony Venue: Whitefield Chapel, Bethesda School for Boys
Reception Venue: Mansion on Forsyth
Florist: Garden on the Square
Cake: Two Cakes