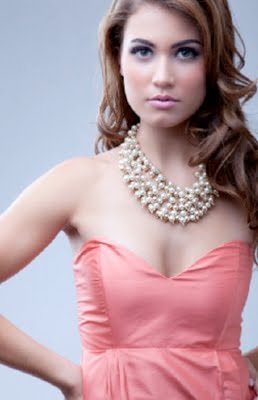 It's official: 2017 has come and gone, and while it was a year that gave us some beautiful weddings, we have a lot to look forward to in 2018 (is anyone else excited for Prince Harry and Meghan Markle?). With a new year come new dress styles, new floral arrangements trends, and, you guessed it, new color palettes.
Here's a look at what brides will be going for in 2018.
Color Blocking
Pastels and earth tones were popular in 2017 and will likely continue to remain so in 2018. But color blocking may just be the wedding theme you never knew you needed. Not sure what color blocking is? Don't worry – you're not alone. Check out this handy Wiki guide. If you're feeling inspired, ask that your guests and bridal party wear block colors of their choosing. It seems like you'll end up with a mash-up of colors that clash, but trust us. Color blocking makes for some amazing wedding photos.
Pearls
It's no secret that pearls are in the middle of a renaissance right now, and you can probably thank celebs like Kim Kardashian (remember her Jackie O. photos?), Rihanna, and Taylor Swift, all of whom have been known to gravitate toward pearl jewelry. Look for pearls to work their way into more weddings in 2018, and not just on ears, wrists, and necks. The gemstone that's long been known for elegance and class will now adorn dresses, cakes, and bouquets. There are a lot of pearls to choose from. More than you're probably aware of, in fact. Not to worry. Check out this guide for all of your pearl education needs. You'll be an expert in no time. These Tahitian South Sea earrings are calling our name.
Textured Fabrics
No, we don't mean lace. Look for velvet, and a lot of it. It's back in style, and it's an alluring fabric for weddings, especially for brides looking to make a statement of their own. Not buying it? Go ahead, question Martha Steward herself. We dare you…
Cakes That Actually Taste Good
Look, fondant isn't for everyone. It can be gritty, gummy, and tasteless, and while it looks pretty not all of your guests are dying to chomp into it. 2018 will be the year the wedding cake makes a comeback, and naked cakes are now a thing. Think of it like the best birthday cake you ever had, only without all of the awfully sugary and sweet frosting on the outside. It's deconstructed! Is anyone else thinking Funfetti?
The Dress-less Bridal Party
Here's a favorite of ours, and we think you'll love it too: Not forcing your bridal party into one, uniform dress that'll be destined for the back of their closet the day after your wedding. That's right, it's a dress rebellion. In 2018, gone are the ugly bridesmaids dresses and welcomed are varying floral prints, patterns, and block colors of the bridal party's choosing. Check out a few prints we like.
Whatever your tastes, styles, and preferences, 2018 is sure to shake things up. Don't be afraid to take risks! Not every wedding needs to be exactly the same, and your guests will thank you for mixing it up.
Photo courtesy of The Pearl Source.