You're going for a non-traditional ceremony location a "Beach Wedding". Sea shells, mermaids, and hues of ocean blues have inspired your vision of a perfect beach ceremony. You also may have found your perfect wedding gown for such an event. You would probably like to keep it perfect throughout your wedding day. Unfortunately, wedding gowns are not magically protected from the little hazards of sandy locations, ocean sprays and especially beach weddings, so if you want that perfect look to last, you'll have to take extra care. Your wedding gown should be a pleasure to wear, not a source of constant worry. Do be careful, but enjoy yourself, too!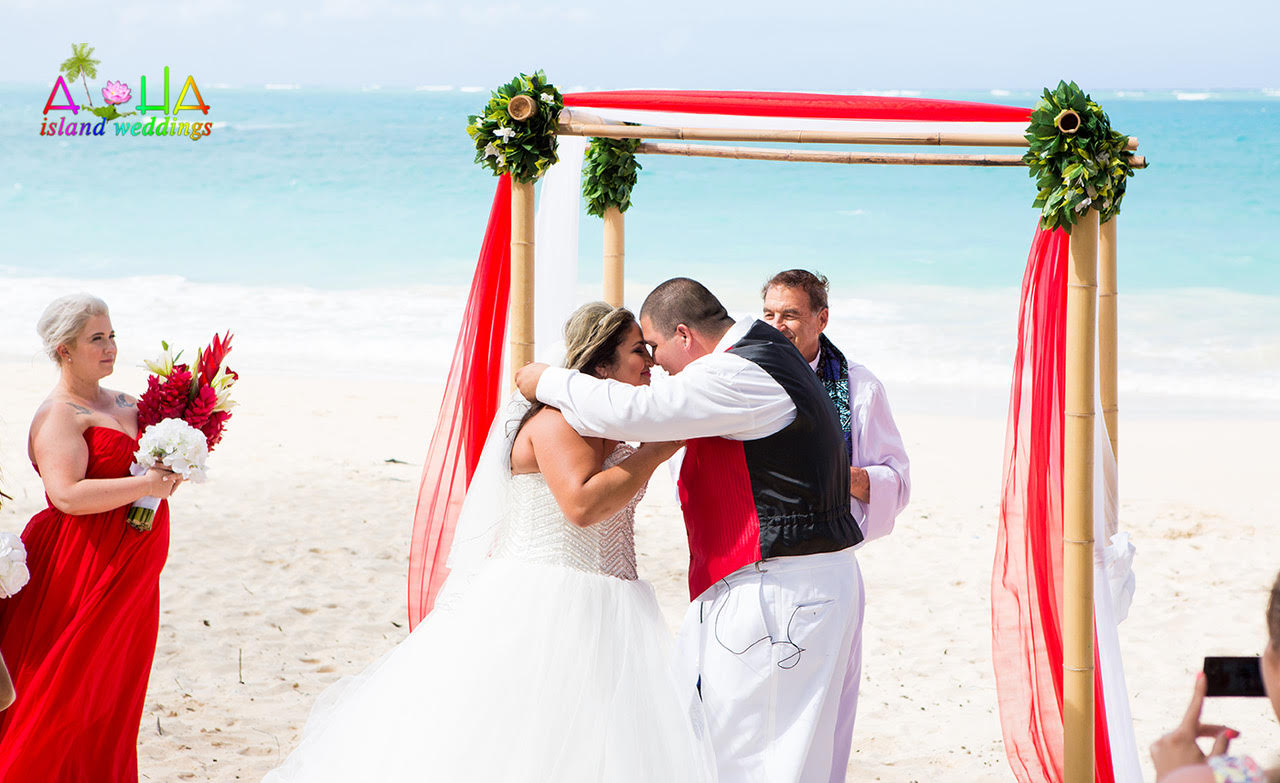 The traditional Hawaiian wedding kiss by putting your two foreheads together and breathing in.
Tips for staying pristine on your Hawaii beach wedding day
You'll probably find that the excitement of the wedding will cause you to perspire more than usual especially if it's a hot sunny day. Fortunately, Hawaii has a nice ocean breeze that continuously cools everyone off though make sure your deodorant is also an antiperspirant; you may even consider having shields sewn into the underarms of the dress also check to see if the house you rented has a  strong air conditioning unit.
Some flowers have strong-colored stamens that can stain clothes. Most of Hawaiian tropical flowers do not stain a lot of flowers for weddings are imported to the islands.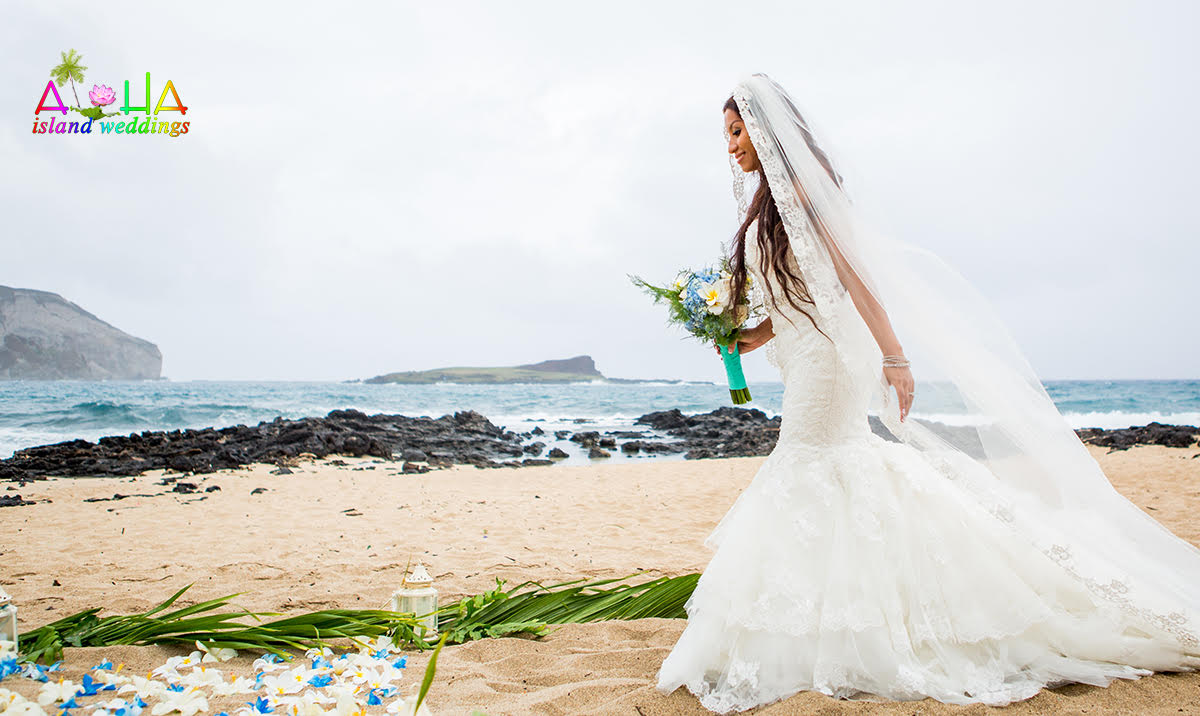 The bride walking on the sand up to her beach wedding ceremony in Hawaii.
If you have your heart set on such a blossom like lilies, the stamens can probably be removed. Ask your florist. Also, if you're allergic to any type of flower, let your florist know.
You'll want to touch up your makeup at some point during the day. Have someone  carry your makeup for you and have them bring along a small towel or piece of cloth to drape over your shoulders and bodice while you're applying your makeup. (A towel will also come in handy if you spill something on your dress; see below.)
Getting from house to wedding site in pristine and unwrinkled condition is not that difficult. Advance planning is the key. First, know the condition of the vehicle you plan to arrive in. Professional limousine drivers assure clean transportation, but if you plan to ride in a friend's car, for instance, delegate someone to ensure the area where you will be sitting is spotless, and perhaps to spread a clean white sheet over the seat and floor prior to your departure. I have found most brides find they collect little leaves from the trees as they walk through the park to the beach site , so make sure to lift up your dress until you are actually on the sand.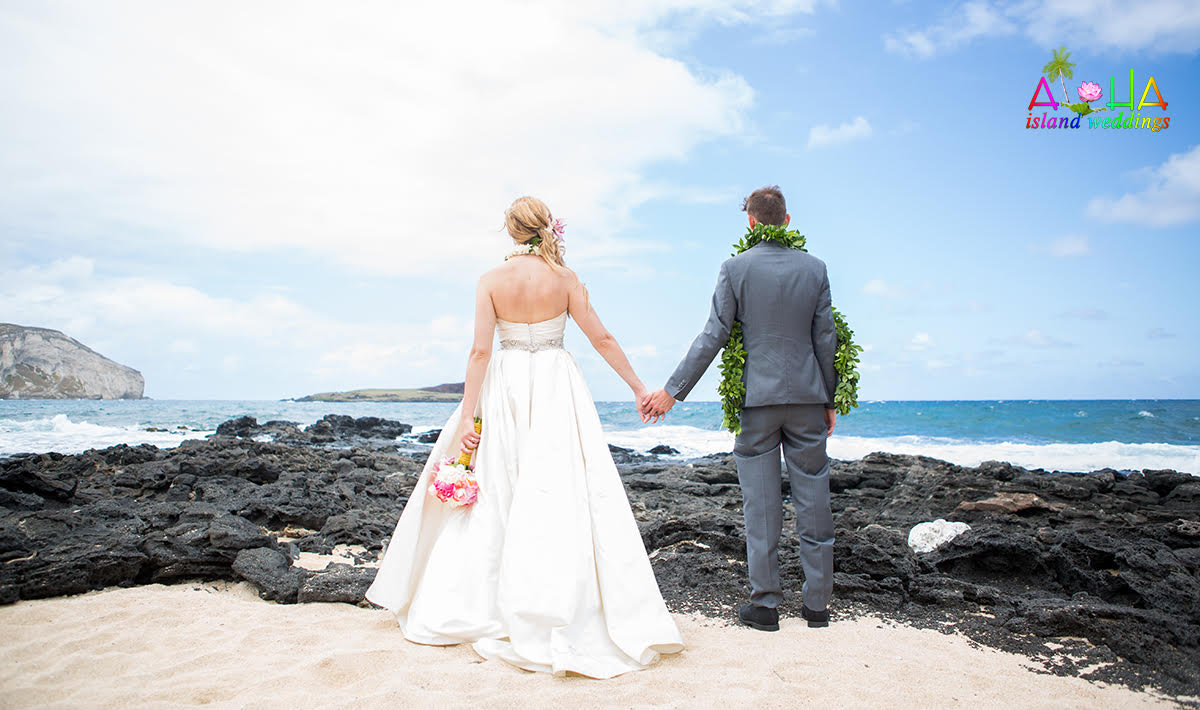 For a beach wedding in Hawaii:
The winter climates from November to February tend to rain more then the other months, So its good advice to ask your Hawaii wedding planner for a tent to be setup just in case of such an event, also be extra careful when getting in and out of cars. (You may wish to cover the floor of the car with a sheet.)
When going outside, take the moment you need to gather up your long skirt to keep the hem off the ground.
If you're concerned that your train is going to wrinkle en route to the ceremony, have someone from the wedding party bring along a travel iron or steamer (depending on the fabric of your gown) and an extension cord. Your helper can quickly smooth out any skirt and/or train wrinkles on the spot.
The best option is to change into your gown close to where you are getting married. This may be difficult at the beach site but if you happen to be renting an estate on the beach they usually have special changing rooms for the bride at the estate house, please keep these ideas in mind: if you must pull the gown over your head, cover your face with a tissue to avoid getting makeup on the neckline/collar; static electricity can instantly cover the train of a gown in dust and carpet fibers, so spread a clean bed sheet on the floor of the dressing area.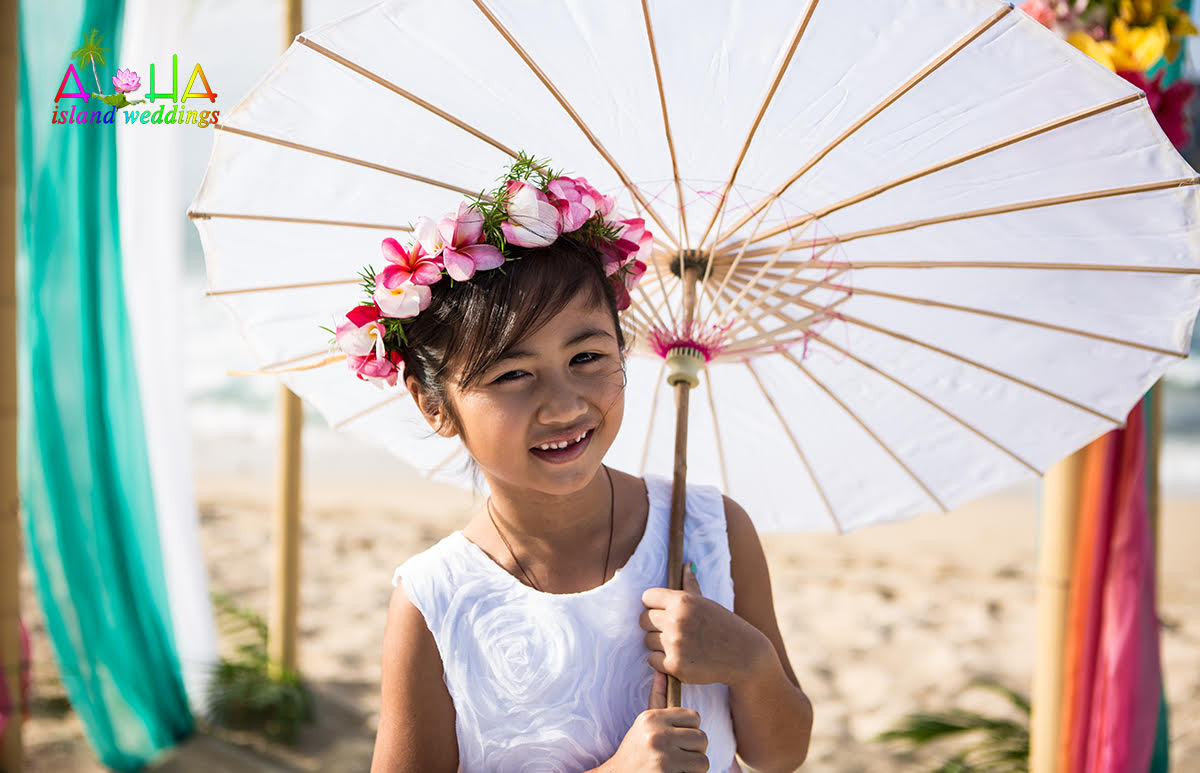 Flower girl under the Hawaii beach wedding arch.
No matter how cautious you are, you probably can't avoid every possible mishap, so be prepared for spills. Be sure to inquire when you buy your dress about the best way to spot-clean it if an accident occurs. It is often best to leave it alone (although sometimes you can minimize the appearance of a spot by blotting – not rubbing – the fabric) and advise the cleaner afterwards so that it can be properly treated. Wine or champagne spills, though, should be looked after immediately: put a towel under the fabric and blot the top with a damp cloth wrung out in a solution of white vinegar or detergent and water, then blot dry to prevent a ring.
We hope this helps you on ideas for keeping your wedding dress clean and pristine for you beach ceremony in Hawaii.