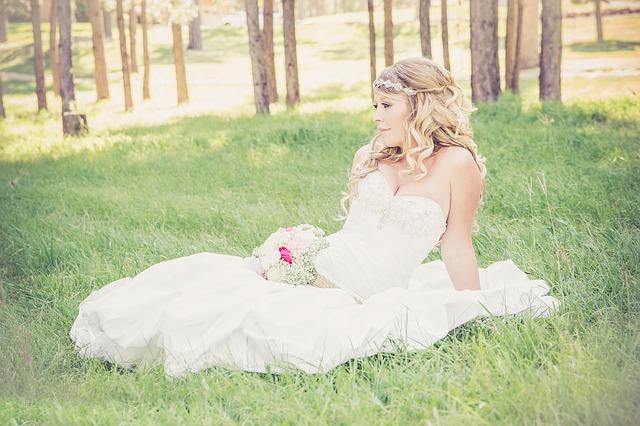 If you're going to be getting married soon, there are tons of things that you've got to think about. And one of those things is how to repair any emergency beauty situations that you might find yourself in. If you haven't thought of these things yet, then you've got to keep reading down below if you want to be prepared for your big day.
Spilling Red Wine on Your Wedding Dress
Anytime that you're going to be at a wedding, there is going to be red wine involved. It's a classic drink that you have during cocktail hour at your wedding and the chances are high that your dress is going to come into contact with a drop or two. The key when you do come into contact with red wine is to only dab the spot, rather than rubbing it in. If you rub in the red wine, it's just going to stain even more.
Those Puffy Eyes in The Morning
If you wake up the morning of your wedding day with those puffy eyes that are just horrible, then you can just use some frozen spoons to fix them up. Just drink a glass of lemon water in the morning while the spoons are getting cold. Then you can lay them on your eyes to wake those eyes right up!
The Strap of Your Wedding Gown Breaking
If the strap of your wedding dress breaks suddenly on your wedding day, then you should be sure that you bring along a sewing kit to deal with this. You can have someone close to you hold onto the sewing kit, so that you're prepared for this eventuality on your wedding day.
If you've been the victim of your mascara running, then this can completely ruin your wedding day look. If this happens to you, then you've got to have a moist q-tip around so that you can wipe away the running mascara. If you can't get it off with water, then try with something that has a bit of grease on it. In order to keep this from happening in the first place, go for water-proof mascara!
The Heel of Your Shoe Breaking
If you're going to be wearing heels on your wedding day, then chances are that you might have that heel break when you're walking around. Make sure to not buy low-quality shoes when you're shopping for wedding supplies to stop this from happening in the first place. If it does happen, then make sure that there's a hot glue gun around to put it back into place.
If Your Manicure Is Ruined
If you've accidently ruined your new manicure by smudging it before it was dried, then all is not lost! All you have to do is take a bit of nail polish remover and put it on those areas that you've smeared to remove it and smooth it all out. After you deal with this, you can start getting your hair curled with your new curler from That's Foxy.
Coffee Breath from Your Groom
If your groom comes to the wedding with coffee breath, then this can ruin that kiss of yours at the end of the ceremony. Make sure to bring along breath mints for your guy to ensure he has minty fresh breath throughout the whole wedding day.
If Your Bridesmaid Has Way Too Much Cleavage Going On
If you have some bridesmaids who have had their dresses altered a bit too much and they have a little too much cleavage going on, then you need to have an idea of how to fix this. You can work with your planner to get some sashes or fashion tape to make your bridesmaids look a little bit more conservative.
If the Groomsmen Lose Their Ties, Vests, Or Anything Else
You might have some groomsmen in the group who may forget parts of their suits at home. That's why you should call up the tuxedo rental shop to ensure there are replacements available if this should happen during your wedding day.
If Your Engagement Ring Ends Up Stuck on Your Wrong Hand
Imagine the worst of the worst and you might think about your engagement ring getting stuck on your wrong hand. Make sure to put your hands in ice water to take down the swelling and then rub your hands with some butter to slide off the ring.
There you have it! These are the tips you've got to follow if you want to deal with those emergency beauty situations you might run into before and on your wedding day.