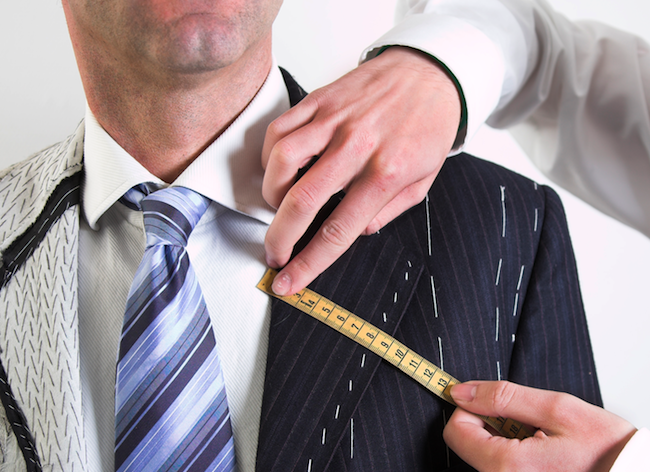 When we think about wedding fashion we all tend to focus in on the bride. Without realising it, what the groom is going to wear can get pushed down the list of priorities. The best way to ensure that this does not happen is to go out and buy the groom´s outfit at the same time as the bride´s. Taking this approach also gets past the tendency men have of leaving shopping for their wedding outfit to the last moment.
Be measured professionally
The shopping process needs to start with the groom getting himself professionally measured. He should do this even if he is planning to buy an off the peg suit, similar to the ones featured on this page. It is important for him to have a baseline to work from. That way, he can quickly narrow down his options.
When trying on a suit the groom needs to do more than just see how he looks in the mirror when he is standing up. He needs to view himself from the back and sides as well as the front. It is also important that he check that his wedding outfit allows him enough freedom of movement. Ideally, he should sit on a chair, crouch down, do the jacket up and fold his arms across his chest and stretch up when trying the suit on. Doing this will avoid embarrassing accidents like his pants splitting, and ensure he has enough freedom of movement to be able to dance properly. This article explains, in more detail, the correct way to assess whether a suit fits correctly.
Understand your suit style
If your groom wears a suit on a regular basis, the chances are he already has a good understanding of which cuts work for him. He will quickly be able to select the style of suit that is likely to look good on him.
Naturally, a man who rarely wears a suit is not going to be in a position to do this. Therefore, he needs to allow a little extra time for the shopping process, so that he can try on different cuts.  
The classic mistake people make when buying their wedding outfit is to see something in a magazine and fall in love with it. Only to find out, much later, that particular style of clothing does not actually look good on them. When that happens, it is really disappointing. Occasionally, this realization can lead to the bride and groom having to completely rethink their wedding theme.
For a groom, gaining a good understanding of what styles and cuts he can carry off and which ones do not work for him is important. The earlier in the shopping process he works this out the easier the whole process of buying a wedding suit will be.
Getting the suit to fit the theme
We have already touched on the fact that the groom´s suit needs to fit in with the theme of the wedding. His outfit needs to fit in with the chosen wedding theme era, and there should be good style and colour synergy with the bride´s outfit.
Quality matters
It is really important that the suit the groom buys is well-made and good quality material is used. This helps to ensure that the suit hangs properly. He will be wearing the suit all day. If he buys a cheap suit the chances are by the end of the evening it will not look very smart.
Photo courtesy of Washingtonian.