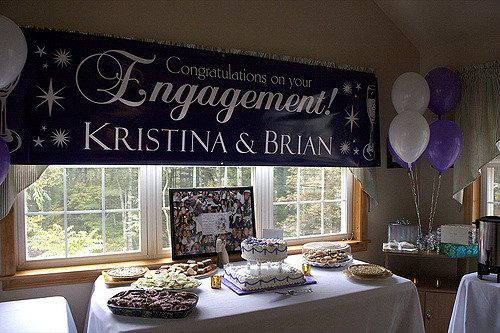 That pretty rock on your finger is just the start of it. Now you're engaged, you have several important events ahead of you, the first one being your engagement party. Want your post-engagement celebration to be the best: Take a look at these essentials of engagement party planning:
Pick a Host
First, thing's first, you'll need to work out who you would like to host your event. Traditionally the parents of the bride would host an engagement party, but these days anything goes, so you should feel free to choose a friend, another family member or even throw the thing yourself. If choosing someone appropriate to host is as difficult as picking out engagement rings or finding the perfect wedding dress, you could consider throwing two parties to satisfy friends and family.
Set the Date
Next, you'll want to think about setting a date. A lot of newly engaged couples want to celebrate as soon as possible, but you should at least give yourself a few weeks to organize the event if you feel that way. On the other hand, a lot of couples wait until several months into their engagement, so that they can organize a show-stopper. Think about what's best for you and choose the date accordingly.
Set a Budget
Every event requires a budget if it is to be perfectly planned and the engagement party is no exception. Work out how much you can afford to spend, and then you'll be able to organize the food, venue, entertainment and guest list accordingly.
Draw Up a Guest List
Now, you know when your party will be, and how much you can spend, you'll need to draw up a guest list. There are no hard and fast rules for doing this, but you should try not to miss out any important friends and family members who could have their feelings hurt. If you really need to keep the guest list down, organize an intimate affair with just your closest friends and family and people are less likely to complain about not being included. Once you have your list, send out invites immediately.
Pick a Menu
Engagement parties can be whatever you want them to be, so don't think you have to lay on a 5-course meal or fine dining buffet – your guests will be just as happy with beer and a burger. Just make sure you know what everyone's dietary requirements are before you talk to the caterers.
Think About Entertainment
Every good party needs to have some killer entertainment to stop guests from getting bored. If you want to keep it simple, a good DJ will get everyone up and dancing, but there's no reasons why you can't hire a live band, circus performers or even a comedian if that's your thing.
Think About Gifts
Engagement parties and gifts can be tricky. They aren't always expected at such events, but there is a chance you'll get some, which is why it's always a good idea to come up with a plan. Tell your guests you'd prefer them to donate to charity, show them a gift registry or set aside a place where any gifts can be easily stored – so whatever feels right but have a strategy in place.
Have you recently celebrated your engagement What tips can you give our newly engaged readers?