If you're engaged to be married, you're more than likely planning your wedding excitedly. One huge aspect of getting married is the location. Some wouldn't dream of having it anywhere other than home, while others would rather travel far away with their loved one. Are you wondering about getting married abroad? Here are some top reasons you should tie the knot in a foreign country!
You Have a Limited Budget
If you have a limited budget, marrying abroad can be beneficial. For many people, it's much cheaper. You won't have to fork out for half as many things as you would if you were to get married in your home country. You'll also be able to find a number of great companies to offer services that fit your budget, such as http://www.lioncitylimo.com.sg/services/wedding-car-rental-singapore/.
You Want a Smaller Guest List
Many people won't be able to make your wedding if you get married abroad. By all means, invite them, but know that many of them won't be able to make it. Some will have work commitments, and others just won't have the cash. This means you can spend less on things like food. If you want a smaller guest list, then getting married abroad is a very good idea. It's one of the biggest things you'll worry about when getting married where you live, so it can take a load off your mind!
You Want to Combine Honeymoon and Wedding
If you'd rather save yourself some hassle and combine your honeymoon with your wedding, this is a great way to do it. You'll be on your honeymoon straight away and won't have to faff around packing and re-packing your things.
The Weather is Better
The weather will more than likely be so much better than the weather in your home country. For certain places at certain times of year, you can pretty much guarantee sunshine. If you want a weather in the glorious sun, then getting married abroad is your best option.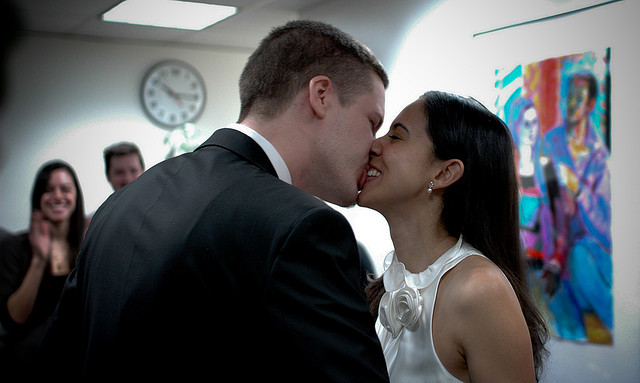 Luxurious
Regardless of the fact you're probably spending less money, a wedding abroad just seems more luxurious. If you want to feel like you're getting married in total luxury, then getting married in a foreign country is the way to do it.
Better Photos
You will automatically have better wedding photos when you get married abroad. There will be so many different locations perfect for taking pictures, and the sun will make everything seem brighter and better. Any pictures taken in your home country would seem dull in comparison.
A Better Time for Everyone
For your nearest and dearest who do come to your wedding, it'll be a much better time. The sun puts everybody in a much better mood, and they'll be able to celebrate your marriage poolside. Everybody loves taking a holiday, so this is something they won't forget in a hurry!
Katie from Orla James agreed 'Flying is becoming incredibly cheap and its prompting more people to get married abroad: on that dream beach in Spain, or in the beautiful snowy alps of France.
Something Different
Getting married abroad is something different to your traditional wedding. Traditional weddings can be a bit boring, to put it bluntly. Once you've been to one, you've been to them all. If you want your wedding to stand out from the rest, it's a good idea to have it abroad.
Do you agree with these reasons to get married abroad? Leave a comment!