You don't want your wedding to be the same as everyone else's do you? Your special day should be unique to you and your partner. You need to work extra hard if you want to have an enviable wedding day. If you have already started to plan your day, you should think about cute little ways you can make it special for you and your guests. Remember, it is all in the details. If you get the little things right, everything else will magically fall into place.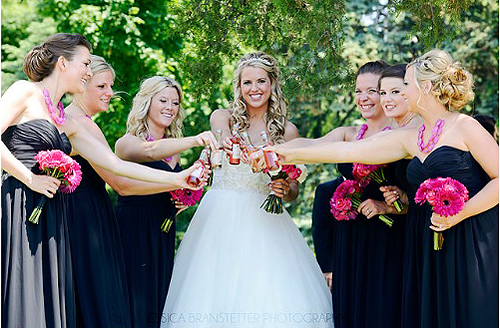 Image
Your ultimate playlist
Like everybody, you probably have a unique taste in music. Unless you want the DJ to play mindless pop music all night long, you should consider creating a playlist for your wedding day. You should choose songs that are meaningful to you and your partner. You should also make sure that you pick a particular song for your first dance. Choosing the perfect song is essential if you want your wedding day to go with a bang. Spend some time going through your old CDs until you find a track that is ideal for your big moment.
A personal photo booth
You need to make sure that your guests have little mementos of your wedding day. Sure, you will have a professional photographer who will take pictures throughout the ceremony. That is a given. But, don't you want something a little personal as well? Contact a company such as Singapore's wedding photo booth provider, PinkMenPrints. They can rent you a booth where your guests can take a whole range of photographs. The best thing about this idea is that you get to see the prints right away. This little detail means that people can get into the spirit of things and have some fun while you party at the reception.
A themed wedding dance
Most couples take dance lessons in the lead up to their wedding. If you want to impress your friends and family, though, you should hire a choreographer to help you plan a fun dance. There are loads of styles of dance that you might want to incorporate. You can see loads of special first dances on YouTube if you need a little inspiration. It will take time to learn those moves, but once you know them, you can be sure that no one will forget your first dance.
Bespoke favors for your guests
It is customary to give your guests little gifts at the wedding itself. Most people call these presents favors, and you might have heard about them before now. If you have an intimate wedding and you invite less than two hundred guests, you might want to personalize the favors. You could get people individual gifts that they will adore or buy presents that have people's names on them. Simple things, such as candles and soaps, make perfect favors as they are cheap to buy and people like them.
Edible place settings
As you know, you need place settings so that people know where they are sitting when they have their meal. You can make things quirky by giving people edible place settings rather than card ones. For example, you could get chocolate blocks and write people's name on them in frosting. That way, when people have finished their food, they can have a tasty treat with their name on it.
Your wedding is your one chance to make a massive impression on everyone you know. There are no rules when it comes to planning the event. You are in charge, and so what you say goes. Don't be afraid to get creative when it comes to your plans. After all, you deserve the best wedding ever!