Are you looking for the perfect cocktail hour or late night food bar addition? Why not an all-American classic, Mini Burgers. You can also have some fun with them and add cute little DIY toothpicks that say "Just Married" or take it a step further and use them as escort cards with names on the toothpicks.
Your guests will love this idea and dive right in. Don't forget to have little dipping sauce on the side like ketchup and mustard!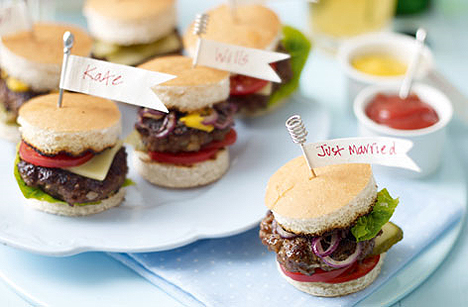 Mini Burgers
Makes 12
1½lb Angus beef
1 onion, finely chopped
2 tsp Worcestershire sauce
1 tbsp tomato ketchup
3oz fresh breadcrumbs
1½ tsp salt
1 tsp freshly ground black pepper
6 hot dog rolls or bridge rolls, plus toppings to serve
Mix the beef with the onion, Worcestershire sauce, ketchup and breadcrumbs. Season with salt and pepper. Mix with your hands then shape into 12 mini burgers. Grill or fry for 3-4 minutes on each side.
Meanwhile, cut the hot dog rolls or bridge rolls into thick round slices and toast under the grill. Sandwich the burgers between the bread rounds with your toppings (onions, lettuce, tomatoes, small squares of cheddar) and secure with cocktail sticks.
Photo & Recipe adapted from Tesco Real Food.