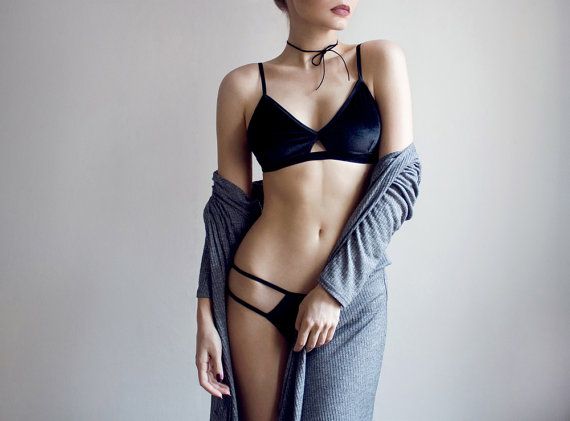 It's winter, don't we love the layered outfit. Sure we do, every woman does. But what we miss in winters is the inside story. You heard us right, we easily feel lost underneath all of those winter clothes.
Fortunately, there's a way out to fight the boring winter clothes with hot and sexy luxury lingerie inside. Beautiful lingerie is your way of looking your best. Believe me when I say that the right kind of lingerie will make you feel super sexy even under the puffiest coat you are wearing. We have compiled the most luxurious lingerie for you to wear.
Right from lavish velvet bras to hot lace bodysuits, to all other sexy lingerie trends – we bring you the best of winter lingerie fashion pieces. In fact, you will like to wear the trendiest of lingerie all winter long, according to your mood and style.
Velvet Lingerie – Velvet lingerie is often seen to be old school. But what most women don't realize is that it is one of the trendiest fabrics to don inside. Luxurious, soft and cozy, velvet lingerie is trending nowadays. You can combine a velvet bra along with a velvet robe.
Embroidered Lingerie – You must have seen even wornembroidered clothes. But for the wintery end of 2017, the embroidered lingerie will make an excellent choice. It is one of the most exotic and feminine lingerie pieces that you can wear winter clothing layers.
Slip Dresses – This is a sheer revolution. What was meant to be worn as undergarments have become the sexiest lingerie trend? In fact, it will soon take over take the trend of shirts and nightgowns.
Camisole Tops – Designed to be an undergarment, but was soon realized that it be a good fit at the top. You can combine you all time favorite camisole top with a cozy, lightly loose sweater to get the perfect feminine winter style.
Blush Lingerie –The color of romance, the softest of all color – this shade is taking the lingerie fashion by storms.
Floral Appliques – It is time to see bras, bralettes and even bodysuits that come adorned with beautiful floral appliques. This sexy luxury lingerie is, in fact, one of the most sought-after feminine trends that are gaining popularity for its exquisite style, designs, and fabric.
White Lingerie – It is often thought that only brides wear white lingerie. This is a wrong notion because it is one of the hottest trends that will gain its foot even in 2018. White is a pure color and has a lot of oomph factor in it. It does make sense to wear it underneath layers of winter clothes.
Strappy Bras – If there's one bra that you can't leave, it would be the strappy bras. It is present everywhere from lingerie shops to boutiques to your home. But if you don't own one of these you surely need to get a strappy this winter season.
Sports Bras – How can we forget the athleisure that has been dominating the fashion sphere for past so many years? You do need to get that active morning routine even in winters and a sports bra will be definitely your best friend.
Bodysuits – If there's sexy luxury lingerie that you shouldn't miss then it would be the hot and happening body suit. The bold colors do look great but the more beautiful one would be the lacy one.
Author Bio Susan Harris is a creative writer by profession and hobby, currently working as a freelance writer. She aspires to help her readers achieve their best style by sharing personal tips learned through both years of experience and thorough research.
Photo courtesy of etsy.com.