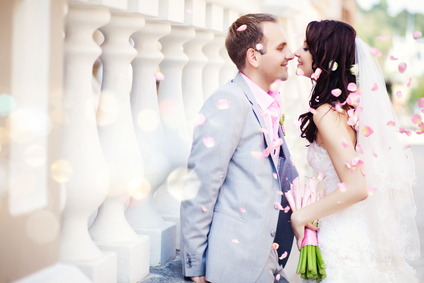 Couples spent an average of $28,427 on their weddings in 2012, not counting honeymoon costs, according to The Knot. Of course, expenses vary by region—Alaskan couples spent an average of $15,504, while the average wedding in Manhattan set couples back a stunning $76,687. If you don't want to spend your honeymoon worrying about how you'll repay that debt (that is, if you can afford a honeymoon after all that), pay attention to these budget-friendly wedding planning tips.
Start With a Budget
The Wedding Channel recommends a three-step approach to budgeting:
First, decide on your theme and venue; these significantly determine your expenses
Second, consider your number of guests, which will also drive costs
Third, break down your expenses into itemized categories
The Knot provides a wedding budgeting tool to assist with these steps.
Create a Savings Strategy
With your estimates in hand, you can start developing a savings strategy. This should fit within an overall budgeting strategy. Consider following finance expert Elizabeth Warren's 50/30/20 rule of thumb, which suggests:
50 percent of your monthly take-home pay should be dedicated to "needs," such as housing, food, utilities and insurance
30 percent of your monthly take-home pay should be dedicated to "wants," including cable TV, dining out and nice things
20 percent of your monthly take-home pay should be dedicated to savings goals and debt repayment
A realistic wedding savings budget should fall into this last category, the 20 percent toward savings. One way to accelerate your savings timetable is to open a high-interest savings account dedicated to the big day. CNN Money provides a review of the top ones out there.
Think of ways you can boost this savings account. If you're entitled to regular payments from a structured settlement or annuity, you may be able to sell your future payments to a company like J.G. Wentworth for a lump sum of cash now. You could then put this money toward your savings fund.
Look for Cost-Cutting Opportunities
According to the same survey by The Knot, the top wedding costs in descending order are: venue rental, engagement rings, reception band, photographer, florist, planner, ceremony site rental, videographer, wedding dress and rehearsal dinner, which all topped $1,000 apiece. These were followed by reception DJ, limousines, cakes, musicians and invitations, all of which exceeded $450 each. Catering, meanwhile, averaged $63 per person, adding to the total tab.
Cut costs in these high-ticket areas. Some ideas to get you started:
Look into low-cost or no-cost locations, such as backyards and national parks. Choosing a location that is already decorated can lower costs on things like flowers.
Limit the guest list, since many reception-related costs are charged on a per-person basis. Rev. Roger Coleman made this suggestion on BankRate.com: Don't invite more guests than you can spend one minute of time with. For instance, spending a minute with 300 guests would take five hours.
Cut photography costs by hiring a student photographer.
Hiring a DJ is significantly less expensive than paying for a band.