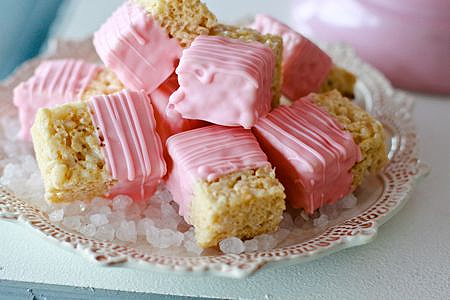 I know… this recipe will have a dropping everything and going to the store to pick up all the ingredients you need. I know this recipe has you thinking it's perfect for Valentine's Day, but its the perfect recipe that can be changed to match any occasion!
This recipe will give you flashbacks to your childhood and will have your friends and family jumping at the change to help you make them.
If you plan on making pink chocolate with the recipe below make sure that you make the Vanilla sugar one week prior to everything else. There's nothing worse that starting a recipe and not realizing you can't finish it right away

.
Rice Krispies Treats (The original recipe courtesy of RiceKrispies.com)
Serves 12, cook time 30 minutes
Ingredients

3 tablespoons butter or margarine
1 package (10 oz., about 40) regular marshmallows
- OR -
4 cups miniature marshmallows
6 cups Rice Krispies
Directions
1. In large saucepan melt butter over low heat. Add marshmallows and stir until completely melted. Remove from heat.
2. Add KELLOGG'S RICE KRISPIES cereal. Stir until well coated.
3. Using buttered spatula or wax paper evenly press mixture into 13 x 9 x 2-inch pan coated with cooking spray. Cool. Cut into 2-inch squares. Best if served the same day.
MICROWAVE DIRECTIONS:
In microwave-safe bowl heat butter and marshmallows on HIGH for 3 minutes, stirring after 2 minutes. Stir until smooth. Follow steps 2 and 3 above. Microwave cooking times may vary.
Pink Chocolate (Recipe courtesy David Bailey via Rachael Ray's Tasty Travels)
Cook time 10 minutes
Ingredients
7 ounces whole milk
1 tablespoon Vanilla Sugar, recipe follows
2 ounces white chocolate coins
1 1/4 ounces framboise (raspberry) liqueur
3/4-ounce white chocolate liqueur
Directions
1. Heat the milk and sugar in a small saucepan over medium heat until it is hot. Do not let it boil.
2. Put the white chocolate into a mug, add the hot milk, and stir vigorously.
3. Add the liqueurs and stir gently. (Or, if available, place all the ingredients into a pitcher and steam with an espresso wand.) Serve immediately.
Vanilla Sugar:
1 whole fresh vanilla bean
1 pound sugar
Slice the vanilla bean in half lengthwise. Scrape out the seeds and place them along with the bean rind into an airtight container along with the sugar. Mix thoroughly. Let sit for 1 week before using.
photo courtesy of My Sweet & Saucy.