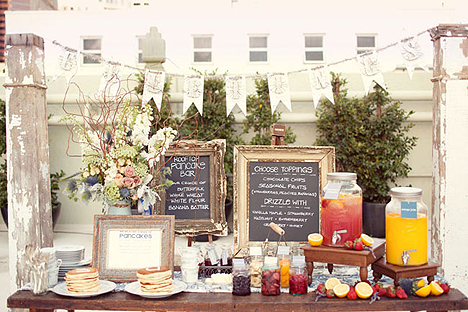 When I came across this pancake bar yesterday via Green Wedding Shoes. If I could I would eat breakfast food all day long I would! 🙂
How cool would it be for your next party or at your wedding to serve your guests breakfast! They could pick there own fresh toppings or syrup and make there plates as big as they wanted.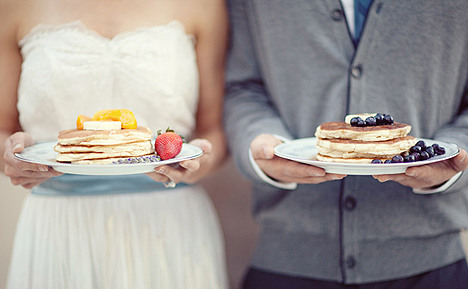 Another fun way to let your guest indulge is with pancake escort cards! I found this very cute and simple DIY pancake plate via Once Wed.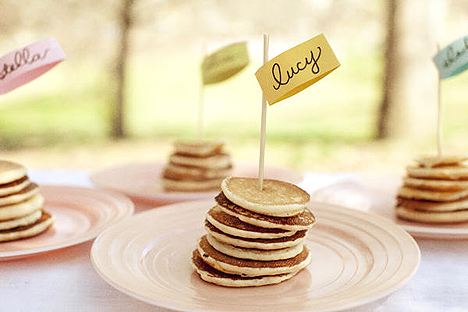 I love this idea via Elizabeth Anne Designs for your next party. Give your guests their very own honey stick to take home. They. Would. Love. It.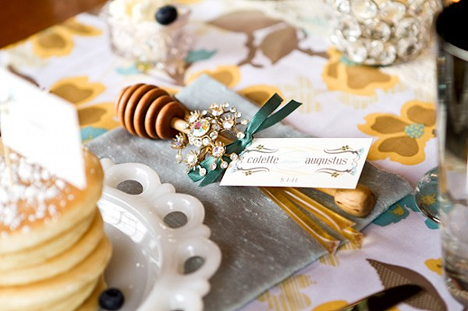 And of course with all these delicious breakfast ideas we had to included a wonderful Buttermilk Pancake recipe! Enjoy.
Buttermilk Pancakes
(Yield 12 – 5 inch pancakes)
Ingredients
3 cups all-purpose flour
3 tablespoons white sugar
3 teaspoons baking powder
1 1/2 teaspoons baking soda
3/4 teaspoon salt
3 cups buttermilk
1/2 cup milk
3 eggs
1/3 cup butter, melted
Directions
In a large bowl, combine flour, sugar, baking powder, baking soda, and salt. In a separate bowl, beat together buttermilk, milk, eggs and melted butter. Keep the two mixtures separate until you are ready to cook.
Heat a lightly oiled griddle or frying pan over medium high heat. You can flick water across the surface and if it beads up and sizzles, it's ready!
Pour the wet mixture into the dry mixture, using a wooden spoon or fork to blend. Stir until it's just blended together. Do not over stir! Pour or scoop the batter onto the griddle, using approximately 1/2 cup for each pancake. Brown on both sides and serve hot.