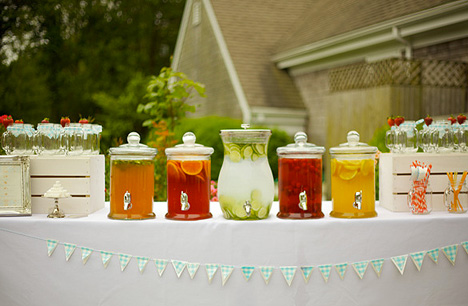 I love the trend of lemonade bars! This trend is more suitable for a warm outdoor reception, but it also has so many fun possibilities. You can have different flavors of lemonade, infused waters, and even a non-alcoholic sangria option.
The different beverages will offer some very vibrant (and mouth-watering) pops of color to any party or reception. From mint lemonade to a watermelon your guests won't even notice there isn't any alcoholic beverages.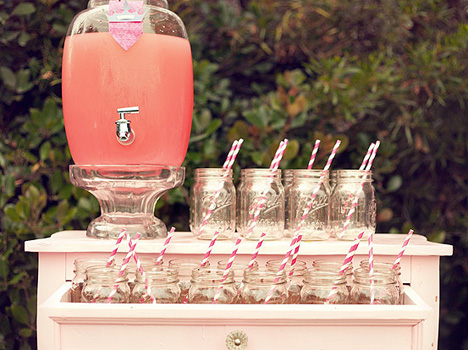 Pink Lemonade
Makes 3 quarts
1 cup granulated sugar
2 1/2 cups fresh lemon juice, plus 4 lemons, thinly sliced crosswise, for garnish
1 1/2 cups superfine sugar
2 cups cranberry juice
Directions
Bring granulated sugar and 1 cup water to a boil in a medium pan over high heat. Stir until sugar is dissolved. Refrigerate until chilled, about 1 hour.
Add lemon juice, superfine sugar, cranberry juice, and 1 1/2 quarts water to a serving container. Stir until sugar is dissolved. Refrigerate until ready to serve, up to 1 day.
To serve, add ice cubes to fill and garnish with lemon slices.
Photos courtesy of Harley and Jane.