As you know I love thinking outside of the box when it comes to food. I came across this photo from MODwedding and I had to share. A fruit and veggie bar will be a huge hit with the adults and children at your next party or wedding.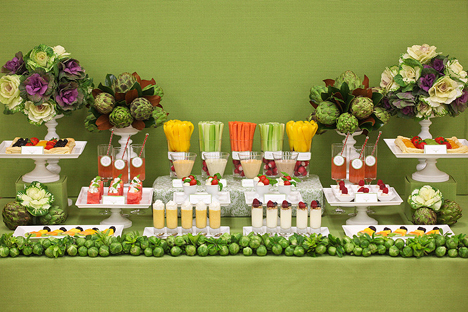 I love the use of brussel sprouts and artichokes as decor. If you want to do this next idea make sure that you use fruit that is in season. Also make sure some of the fruit is made into desserts so it looks pretty.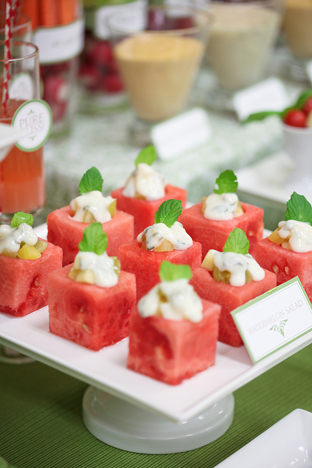 You can also add whole pieces of fruit along with granola and nuts for your guests can take some home with them.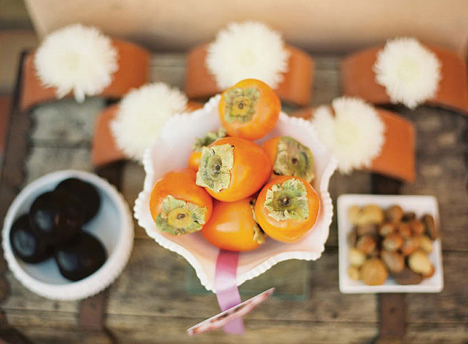 If your a cheese lover you can have a cheese and fruit station. Or you can add a few dishes of cheese to a fruit and veggie bar.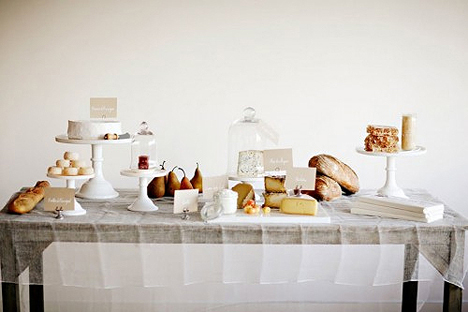 If you decide to do a cheese and fruit bar, make sure you include crackers and fig spread on the table for guests who love to add it to their cheese.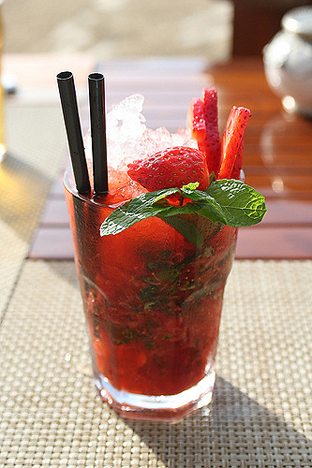 What would a party or a wedding be without a fun drink? Strawberry Mojitos are the prefect summer drink!
Strawberry Mojito (courtesy of AllRecipes.com)
Sugar to rim glass
2 large limes, quartered
1/2 bunch mint leaves
7 strawberries, quartered
1 cup white sugar
1 cup white rum
2 cups club soda
8 cups ice cubes
Directions:
Pour 1/4 to 1/2 inch of sugar onto a small, shallow plate. Run one of the lime quarters around the rim of each cocktail glass, then dip the glasses into the sugar to rim; set aside.
Squeeze all of the lime quarters into a sturdy glass pitcher. Toss the juiced limes into the pitcher along with the mint, strawberries, and 1 cup of sugar. Crush the fruits together with a muddler to release the juices from the strawberries and the oil from the mint leaves. Stir in the rum and club soda until the sugar has dissolved. Pour into the sugared glasses over ice cubes to serve. (For a more spicy treat, try Sailor Jerry's Spiced Rum!)
TGIF! 🙂
Photos courtesy of MODwedding, the wedding decorator, blog lovin, alden blair events, taste of park city.