I'm always on the lookout for great ways to use leftover from last night's dinner. With growing little kiddos the Lucy Dylan household is a two roasted chicken household and leftover chicken is always tricky to please hungry little mouths.
I was really excited to come across a light and refreshing Feta Avocado Chicken Salad via Chef in Training because you can play around with the ingredients and have an easy week night meal for the summer! Thanks so much to Chef in Training for the recipe and photo!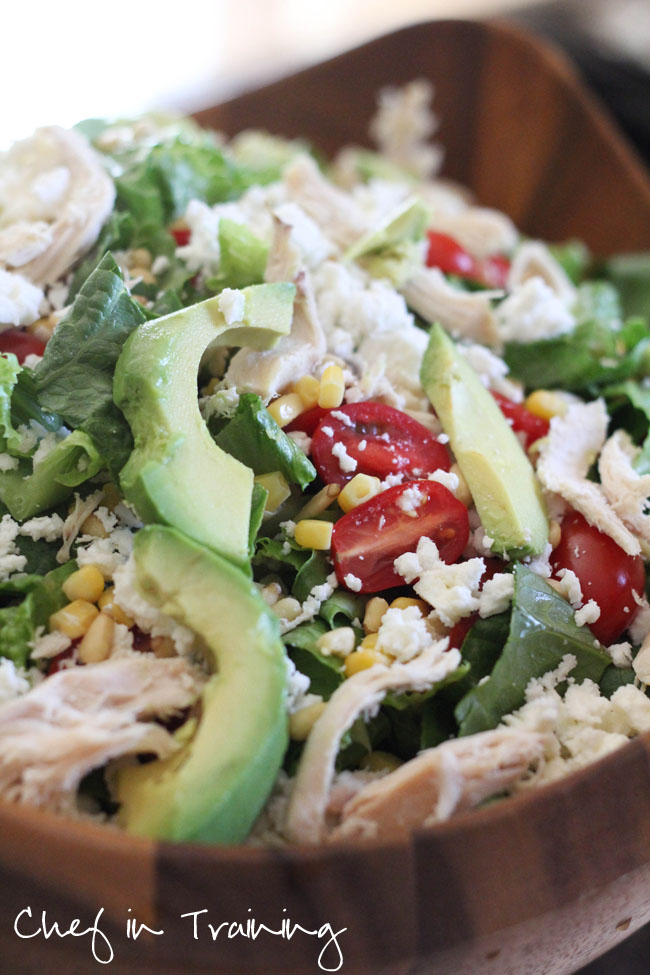 Feta Avocado Chicken Salad
Recipe courtesy of Chef in Training.
Ingredients:
Salad
8 cups romain lettuce
1 cup halved cherry tomatoes
1 cup corn
1 1/2 cups cooked and shredded chicken
1 large avocado, sliced
1/2 cup crumbled goat or feta cheese
1/4 cup toasted pine nuts
Dressing:
3 Tbsp. white wine vinegar
2 Tbsp. extra-virgin olive oil
1 Tbsp. Dijon mustard
salt and freshly ground black pepper, to taste
Directions:
Place chopped Romain in a large salad bowl. Add and toss in remaining salad ingredients.
In a small bowl, whisk together the white wine vinegar, olive oil, dijon mustard and salt and pepper.
When ready to eat, pour desired amount of dressing over the salad. Toss salad to coat evenly.