This recipe by far is one of the best recipes I've had… And if you haven't made this carrot cake you need too!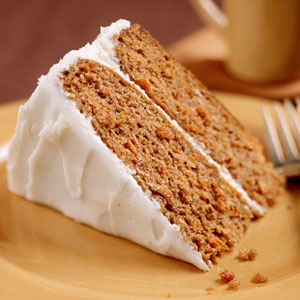 Southern Living's "Best Carrot Cake"
Ingredients:
Cake:
2 cups all-purpose flour
2 tsp. baking soda
½ tsp. salt
2 tsp. ground cinnamon
3 large eggs
2 cups sugar
¾ cup vegetable oil
¾ cup buttermilk
2 tsp. vanilla extract
2 cups grated carrot
1 (8-oz.) can crushed pineapple, drained
1 (3 ½-oz.) can flaked coconut
1 cup chopped pecans or walnuts
Buttermilk Glaze:
1 cup sugar
1 ½ teaspoons baking soda
½ cup buttermilk
½ cup butter or margarine
1 tbsp. light corn syrup
1 tsp. vanilla extract
Cream Cheese Frosting:
¾ cup butter or margarine, softened
1 (8-oz.) package cream cheese, softened
1 (3-oz.) package cream cheese, softened
3 cups sifted powdered sugar
1 ½ tsp. vanilla extract
Directions:
Preheat oven to 350°F and line 3 (9-inch) round cakepans with wax paper; lightly grease and flour wax paper. Set pans aside.
Stir together first 4 ingredients.
Beat eggs and next 4 ingredients at medium speed with an electric mixer until smooth. Add flour mixture, beating at low speed until blended. Fold in carrot and next 3 ingredients. Pour batter into prepared cake pans and bake at 350° for 25 to 30 minutes or until a wooden pick inserted in center comes out clean.
Make the glaze: Bring all ingredients to a boil in a large Dutch oven over medium-high heat. Boil, stirring often, 4 minutes. Remove from heat, and stir in vanilla.
Make the frosting: Beat butter and cream cheese at medium speed with an electric mixer until creamy. Add powdered sugar and vanilla; beat until smooth.
Remove cakes from the oven and drizzle buttermilk glaze evenly over layers; cool in pans on wire racks 15 minutes. Remove from pans, and cool completely on wire racks. Spread frosting between layers and on top and sides of cake.