I'm always on the look-out for a great granola bar recipes. Not only are the easy to make, but there are great gifts to give at weddings and great snacks for during the week. I was really excited to come across this recipe from The Big Man's World because its chock full of nuts, dried fruit, oats and very low in sugar. It's also a Vegan, gluten free recipe!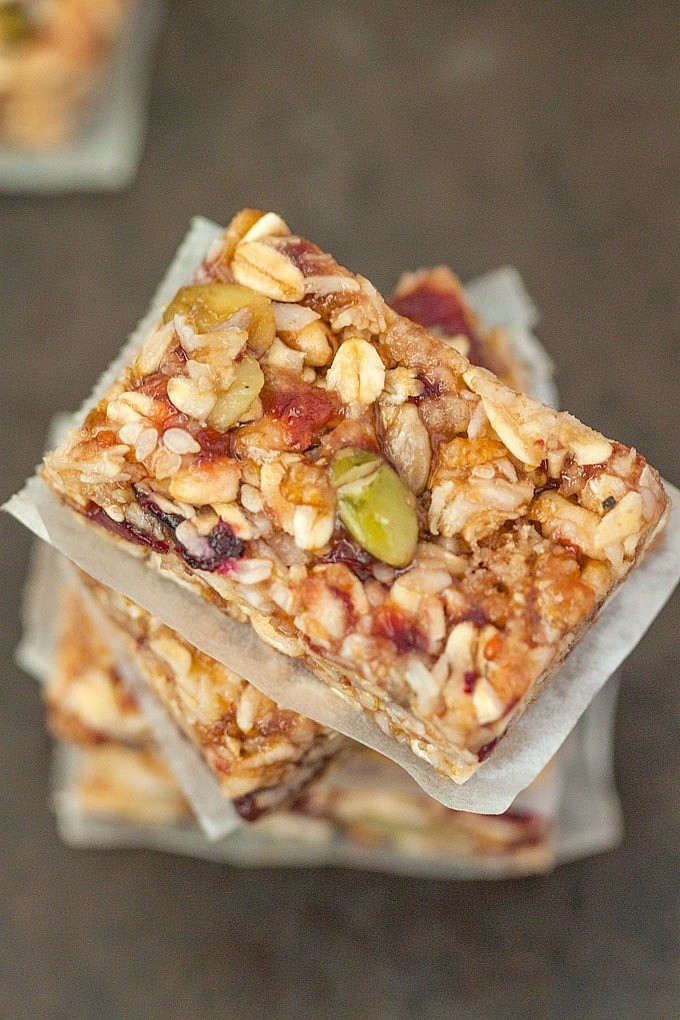 Chewy No Bake Granola Bars
Photo & recipe courtesy of The Big Man's World.
Ingredients:
1 1/2 cups gluten free rolled oats
1 cup of raisins
1 cup roasted almonds, chopped roughly
2 medjool dates, chopped roughly
2 T dried berries of choice
1/4 cup sesame seeds
Dash of sea salt
1/2 T cinnamon
Wet Ingredients:
2/3 cup brown rice syrup
2 tablespoons coconut oil, melted
1 tablespoon coconut butter
Directions:
In a large mixing bowl, mix up the rolled oats, raisins, almonds, dates and dried berries. Add in the sesame seeds, sea salt and cinnamon. Set aside.
In a microwave proof bowl, mix the brown rice syrup and coconut oil until well combined. Drop the coconut oil in it and break apart as much as possible.
Heat in the microwave until melted (time depending on your microwave- for me it was 1.5 minutes)
Remove from microwave and pour the liquid over the dry mixture and ensure it is very well combined
Grease a cake tin/baking tray or line with parchment paper. Press the mixture into it and refrigerate immediately. Allow granola bars to set before cutting bars into 6 pieces.
**Note from recipe: The bars may be difficult to firm up at times- Try increasing the sticky syrup and/or coconut oil.