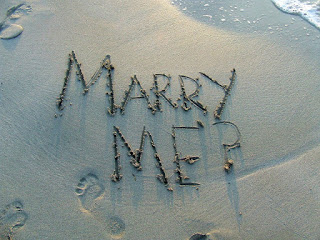 Sweating palms, heart beating like a drum, stuttering words. These are all the common signs of a marriage proposal. Proposing to our beloveds can be a seriously nerve-wracking and stressful moment. We all want the moment to be special and momentous. A moment that we will relive to our friends, kids and grandkids. Over and over again. So the pressure to make it the perfect moment it huge. So if you're struggling for the perfect way to pop the question here are five seriously romantic suggestions just for you.
1.Think of your favourite place. Somewhere that is special for the both of you. Whether it's a beautiful rooftop terrace, the top of a mountain where you had a fantastic weekend walking in the countryside, or your favourite secluded beach. Try and have something special already planned there, like a picnic or a bottle of champagne and when your partner least expects it, get down on that knee and propose with a diamond engagement ring.
2. Why not set up a fun and exciting treasure hunt? Setting little clues around the house, or around a special or romantic place, until they get to the final clue, which will hold your proposal. Alternatively you can start with your first clue at home and then put the second clue in a different location, then third in another location until you get to the last clue, which could be in your favourite restaurant perhaps. Where maybe the final clue comes in the bottom of their champagne glass or in their desert for example. Be creative and make it a surprising, fun and unforgettable afternoon.
3. What about going out to paint the town red and then propose in some sort of big public announcement. Perhaps you can go up on the stage in a swanky club and ask the DJ for the mic, so the whole venue can watch as you propose. Or maybe you could take your soon-to-be-fiance to their favourite theatre show and organise with the theatre production for you to go up on the stage at the end of the show to make your romantic proposal.
4. How about taking an advert out in your fiance's favourite newspaper and publishing your proposal? Make sure that your proposal is not too cryptic however as these can be too easy to miss and then the moment will be gone. Take your sweetheart out somewhere nice and relaxing with the newspaper and watch their face as they flick through the pages to your magnificent proposal.
Alternatively you could place an ad on your favourite radio station. Or if it's a small, local radio station ask your local DJ to make the announcement for you. Just make sure your fiancee is in the room, and listening, when the announcement is made otherwise all your hard work could be for nothing.
5. Think about the location of where you want to propose and then think of the little details that you can add to make sure it's a truly romantic moment. Hiring a string quartet or a choir, to play your beloved's favourite song, is a gorgeous way to make the moment extra special and super emotional.