Congratulations on your engagement! As you know, weddings are an exciting event that every girl – and sometimes, gent – dreams about from a very young age. That thing we do with the pillowcase hung over the back of the head isn't just for fun – we're planning the biggest day of our life. The thing is, weddings are complicated to organise and organisation is often decided by the size of your overall budget. One of the most important things you will be organising for your big day is your wedding stationery.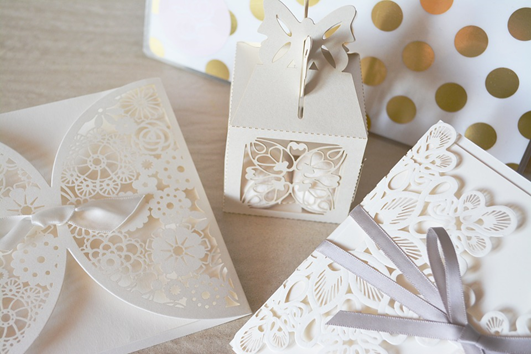 When you send out a save the date for your big day, you need to really think about the style of the stationary that you design. The save the date cards that you choose will be reflecting you as a couple and your couple style, so they've got to be great! They will also need to match your theme, which your official wedding invitations will also be modelled after. This is where you get to let those creative juices flow!
Making the choice to go for standard wedding design is the quick and easy way to have invites ready. Shop bought wedding invitations are often simple and yet beautiful. They do the job you need with the right information prompts that you need to tell your guests and if you are pressed for time, they work well for a quick invitation turnaround. The one thing that shop bought invitations do not have, is you. There's no 'you' included in the design and nothing that truly reflects your wedding theme. You can get close, but never unique enough to match exactly.
Shop bought stationary does the job you need of course, but how would you feel about being unique and choosing DIY Wedding Invitations from Inspired Design? Your theme is important and you can go as different as you like. For example, if you and your fiancé are heavily into superhero characters, your wedding invitations could have tiny little capes attached and you can make your entire wedding superhero themed. Prefer the touch of elegance? Custom designed invitations in the wedding colours and adorned in delicate lace tends to give that touch of class and beauty that can make your guests excited about the day they've been invited to.
Choosing the colours, style, and even shape of your invitations can be made to complement your day. Whether your favourite colour is green or luminous pink, there are no limits to what you can design and all you need is your imagination. Taking that little extra time to make your invitations work for you as a couple can mean the difference between your invitations being like all others out there, or being solely yours. Not only this, but DIY invitations are always fun to have framed in the house as part of your décor. Going unique with your wedding invitations will make your day one to remember, and that's everything you could want on the biggest day of your life.